Day One
Everyone is excited, currently doing a morning devotional and ready to meet the other kids from Wisconsin and California! (Made our drive look easy!)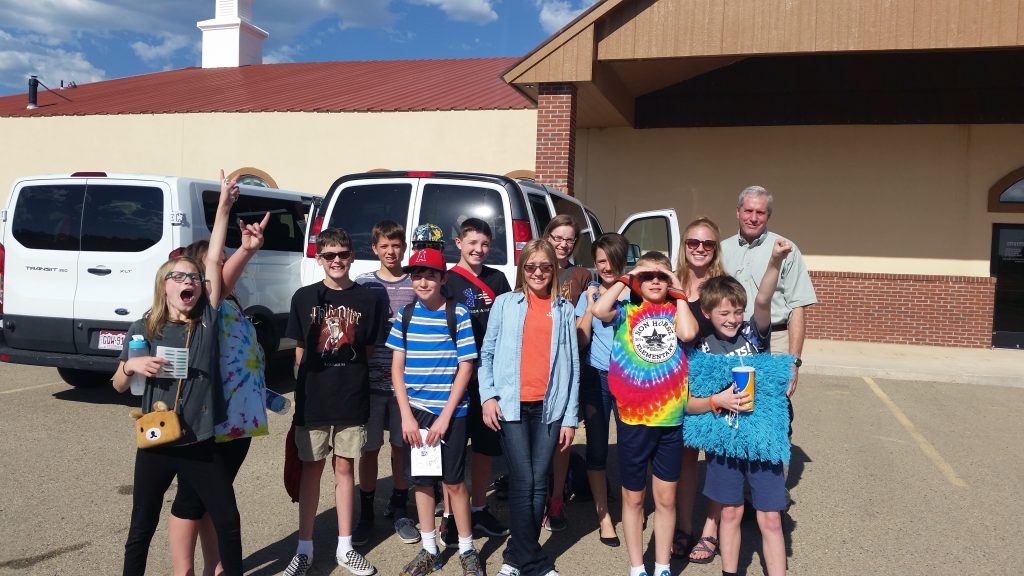 Day Two
Day 1 is behind us.  Some of us landscaped at the rec center and some of us worked at kids camp. It was a great day ending at Mesa Verde. My van got to catch the sunset. It was a great first day.
Friday is coming quick!
Day Three
Dear Families and Staff,
We finished day 2 with a little bit of rain and cooler weather. Each team had 2 days at the same site, so tomorrow we will switch. Just so you know your kids should be experts at weeding after tbs! Ha ha!  So don't say anything, and then freak them out Saturday morning by asking them to help you weed. They'll fall over!!!
Tonight we had a wonderful Navajo woman speak to us about her culture, traditions and her faith. She was really great. That's all I'll say. I want your children to share.
They're all doing great and the trip is halfway over. I will post some great pictures from tonight's fun.
Blessings from Cortez,
April, Robert, Lindi & the Gang
Day Four
Dear Families and Wonderful Staff,
We have finished day 3 and only have one more work day ahead of us.  Today our teams switched locations and experienced eah others challenges and joys.
Tonight was our options night. We were going to go on a hike, but the weather did not cooperate. So, we did our break out sessions at the church and then went to Sonic for a treat.
I took a moment this evening to talk to the kids about one of our church families who needs our prayers. Three brothers in our youth at church lost their mother Sunday due to an accident at Chatfield Reservoir. Most of you already know Hope Cassel passed away Sunday evening. We spent some time praying for the Cassel family and plan to keep them in our hearts and on our minds as we continue to serve.
The plan is still to return home Friday evening around dinner time. We will alert you when we're at 25 and Lincoln.
Everyone is doing great and learning a lot about God's love this week.
Blessings to you all,
April, Lindi, Robert and the Crew
Last Day
Whew!
Our last project day has ended and we're all still in one piece. Tonight we're going to have a wonderful worship service and connect with our faith even deeper.
Tomorrow we'll hit the road a little earlier than expected. So stay tuned for calls for pick up POSSIBLY around 4:30, but we'll see.
Blessings from Cortez, one last time.
April, Robert, Lindi and Your Beautiful Children