Sunday School – YES at 9:30 AM
Sr High in the Youth Room (144)
Jr. High in room 138
Youth Group – NO, I'm away on the Jr. High Mission Trip
We had a great time last week hiking Castle Rock!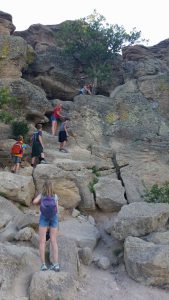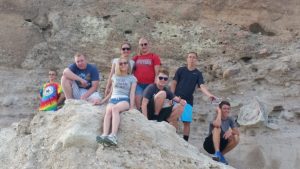 BIBLE BRUNCH
Jump on in! This week we start back at Village Inn with Tina Stroman leading us.  Sr. High meets, eats and does the study from 9-10:30 at Village Inn. Jr. High starts at Village Inn at 10:30 eats and fellowships, and then walks back to the church for the study and ends at 12:30.  Come join us any week any time!
JUNIOR HIGH MISSION TRIP
We leave this Sunday morning!  Please arrive to the middle north parking lot between 7:30 and 7:45 AM.  We will load the vans, go to the 8 AM service for a few minutes.  Randy will say a prayer for us and we will be on our way.  Questions?  Call me at the church or on my cell: 720-383-1577
POOL PARTY JULY 10th
We'll be gathering at the Stonegate South Pool from 1-5 PM.  Please see the link below to sign up for food and drinks for our day.  Please come whenever you can, as you don't have to be there the whole time.  The address to the pool is: 10326 Stonegate Pkwy, Parker, CO 80134
Sign up for food:  www.SignUpGenius.com/go/10C0A4BA5A62DA31-pool
GREASE!
We have 25 tickets to see Grease! at the PACE Center on July 17th at 2 PM.  Tickets are $17. If you'd like a ticket or two, please let me know by email and/or sending a check made out to the church with writing "Grease!" in the memo portion.  I will turn empty seats over to church members by July 1st or 5th if we have extra seats.  Parents/Grandparents welcome!
SR HIGH MISSION TRIP
Information meeting for all attending Sunday, June 10th at 10:30 in the Youth Room.  We have one more spot available.  Please text or call me.  April 720-383-1577
NEW YOUTH LOGO NEEDED!
We're trying to design a youth logo to put on T-shirts!  Please bring me your ideas SOON!  I'd like to get started on this!
SUMMER CALENDAR
Please pick up a copy of the summer calendar located at the top of the Youth News Rack to keep up with all of the activities and schedules of the summer!