Your Money Puts Ministry to Work
When you give to Parker United Methodist Church you're giving more than money. You're helping to create and grow opportunities to invite people to Jesus, affirm their faith and step out into the community to share God's message of love and compassion. Check out the examples at the bottom of the page to see how your money is changing lives.
Commitments at Parker UMC
Provide your estimate of giving using our online form. If you are ready to set up your online giving today you can do that by clicking the button below.
If you'd like to fill out a printed card click the image below and print out the linked image file. This is your commitment card, representing your Estimate of Giving for 2024.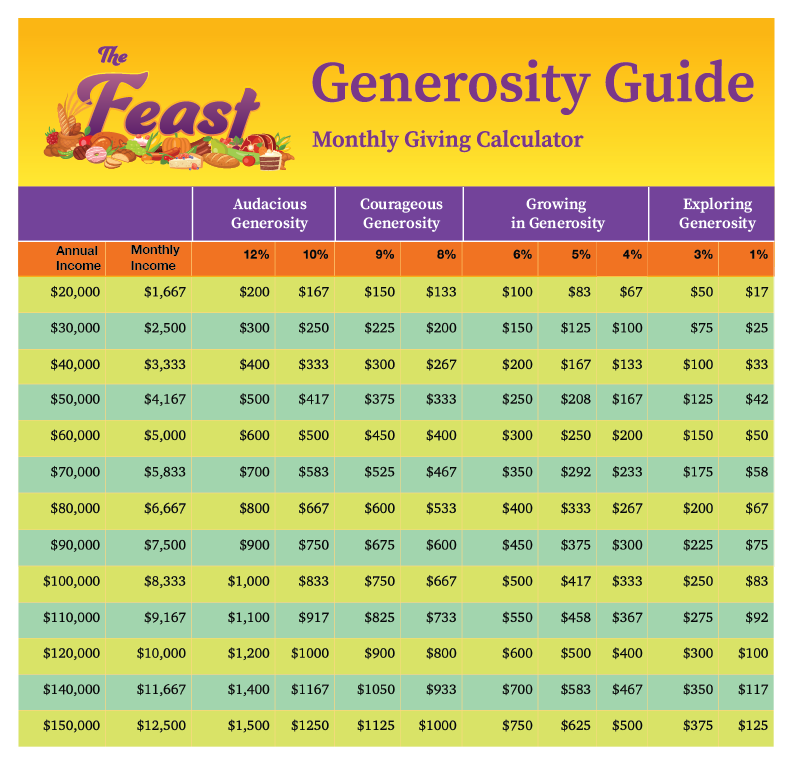 Online Giving Step by Step
Visit www.parkerumc.org and choose GIVE from the blue bar at the top of the screen
Enter your gift amount and choose 2024 General Budget under "Select a Fund."
The form will ask "How often would you like to donate?" Choose Recurring. You will then see that extra information is required. You will need to enter the frequency, total occurrences and the start date for your recurring gift (this will be the day of the month the gift comes out of your account each month.) For example if you are giving monthly you would choose twelve occurrences.
Click the green Next button.
Enter your mobile phone number and the rest of the contact information requested. You will notice the padlock symbol at the top of your screen in the web address bar. That means this is a secure giving site.
When you type your contact information you will be guided to a screen to enter your passcode. If you have not given before you may be asked to set up a passcode. Please follow the necessary instructions. You should be directed back to the giving page. If prompted for your passcode, enter it then click the green button with the check mark on it. Confirm your contact information and click next.
Now you will need to either enter your credit card information or choose "Use Bank Account." Enter the correct information and click the Donate button. You will also have the option to cover the processing fee. Although this is not required it is very much appreciated.
Once you have entered all of the appropriate financial information click Donate.
Thank you for your gift! We truly appreciate it–we cannot do ministry here at Parker UMC without your financial gifts.
Preschool Kids Learn and Grow in a Loving Space
Did you know that Little Blessings Preschool is a ministry of Parker UMC? The thriving preschool, serving over 270 kids and their families, is housed on our campus. That means when you write a check to Parker UMC's general budget you're providing classrooms, facilities, learning materials, and and amazing team of admin and teachers who love these kiddos in a faith based environment.
Safe People and Safe Places to Share Your Struggles
Jesus said, "I have told you these things, so that in me you may have peace. In this world you will have trouble. But take heart! I have overcome the world."
We all face challenges and trouble in our lives. Our pastoral staff, and our directors of Youth and Children are part of compassionate team that create safe spaces for people to talk about those challenges. Our Bible study groups and class groups often support each other in times of need. When you give your money to Parker UMC you're providing classrooms, worship space, and highly trained staff to meet these needs.
A Strong Presence in the Community
Many groups that were started here at Parker UMC meet in public spaces like coffee shops. Their presence is a witness to the community of the fellowship and connection a faith based life can produce. Did you know that Parker Task Force, a local food bank, was started by a member of Parker UMC? When you give your money to Parker UMC you are providing staff to teach classes, empower and grow leaders, and send them into the community to be a presence for God.
Have You Considered a Legacy Gift?
You may be asking yourself, "what is a legacy gift?" A legacy gift is a planned future gift that designates some part of an individual's estate as a donation to a nonprofit. Legacy gifts enable individuals to create a powerful philanthropic legacy by making a direct impact on the causes important to them. There are many types of legacy gifts. Your gift has the potential to impact people in BIG ways. The ministries above, as well as many other possibilities, would benefit greatly from your legacy gift. We'd be happy to answer any questions you may have.