Sunday, October 29, 2017
Sunday School – Yes!  9:30 Everyone please meet in #138 as we are still unable to meet in #144.
Youth Group – Yes, TRUNK OR TREAT – All Youth meet at 3:30 in the Fellowship Hall. Parents Pick up at 6:30.
---
Last week youth left a legacy on the floor of the youth room.  Students brought their favorite scripture, and were able to paint it on the floor before the new carpet goes in for future generations to see.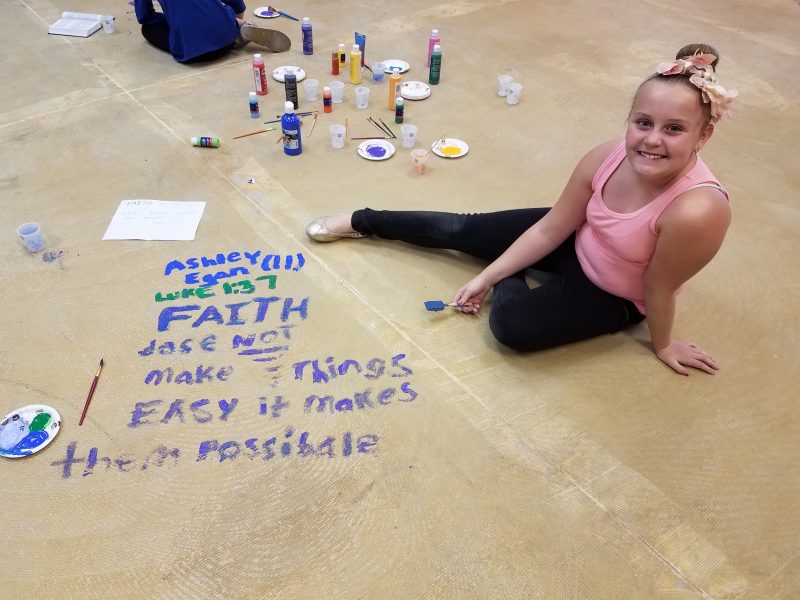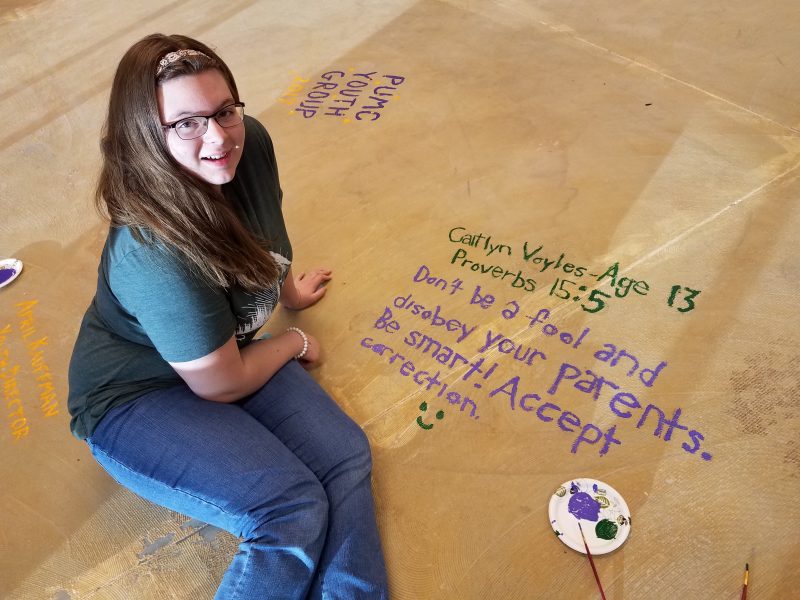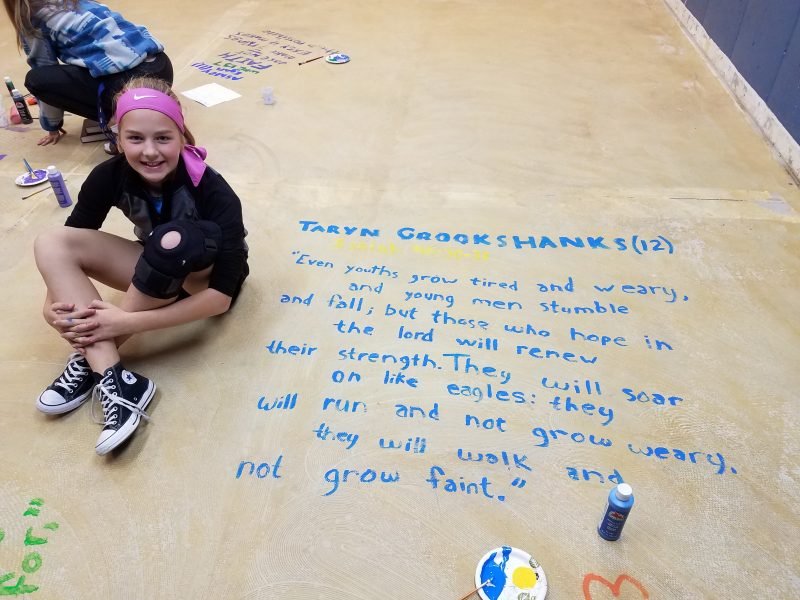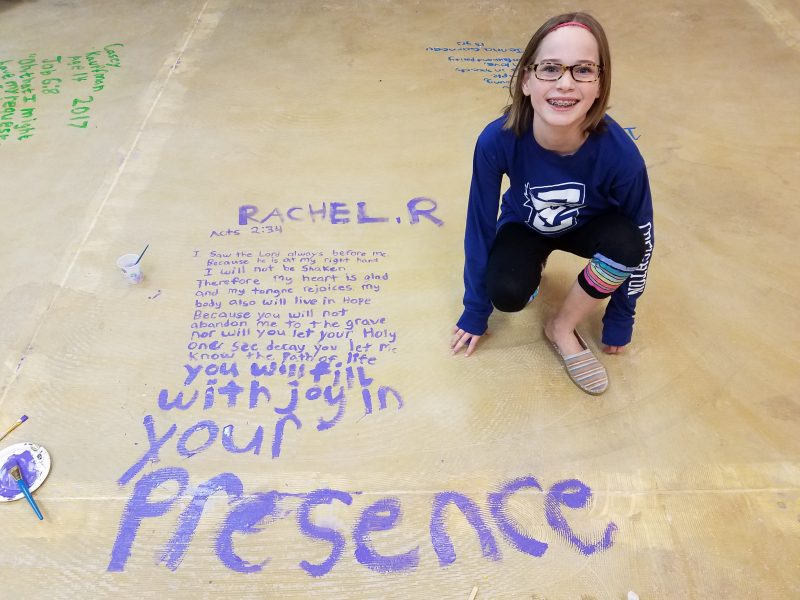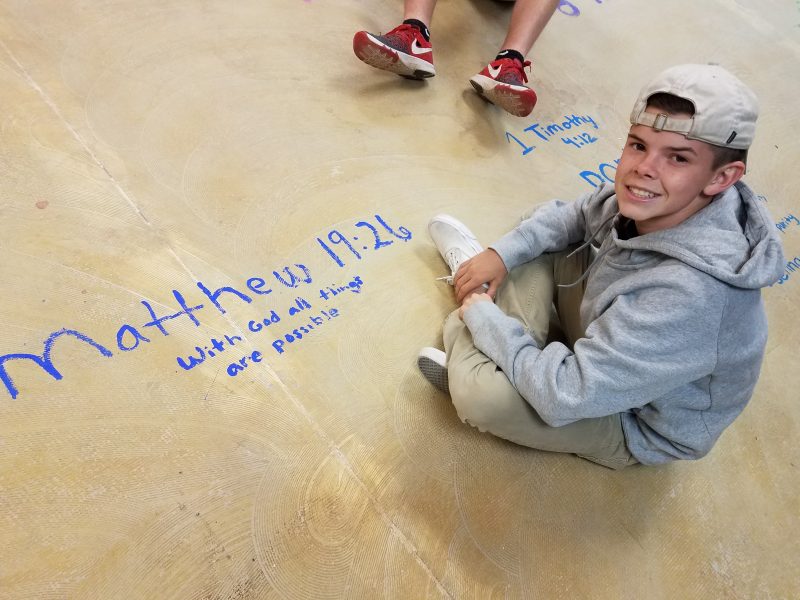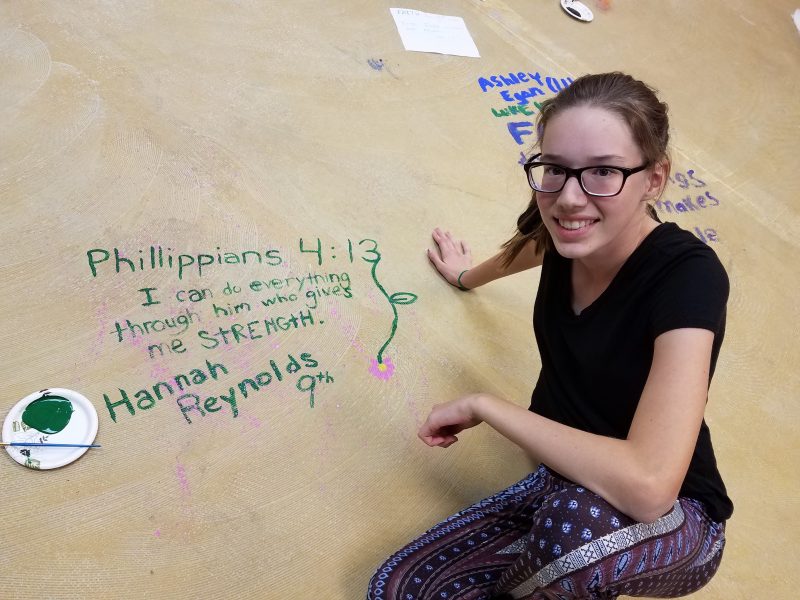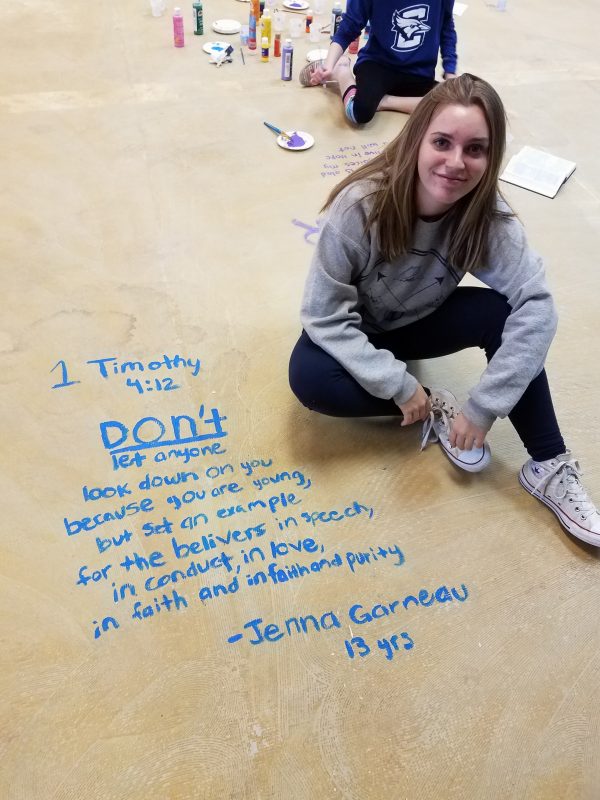 ---
Saturday – Feed My Starving Children
If you have signed up to help with the Feed My Starving Children Youth Group – we will be in the Narthex at 11:50.  So, please plan to check in at 11:50-12:00 and TRY TO REMEMBER to not wear ANY jewelry on your hand (no rings).  Wear as little jewelry as you can!  Parents come pick up around 2:00 – 2:15.  Thank you and see you Saturday!
Sunday Trunk or Treat

This Sunday we will ALL (Jr. High and Sr. High) meet at the church from 3:30 -6:30 to help with our first ever – Trunk or Treat! Pizza slices will be on sale for $2 if you want to bring some money to eat!  This IS what we are doing for youth group Sunday.  Come dressed in a costume and help run games or crafts for the kids.  Parents, while your students are helping, decorate your trunk and come help hand out candy to our attendees!  YOU MUST Click here to register for a spot in the parking lot.  It's our first (and will hopefully be annual) Trunk or Treat event.  Come out and have a great time!  If you are dropping off, please plan to pick up by
Why this Envelope is Important
We will be starting a new 3-4 week study about why this envelope is important.  Youth need to understand why committing each month to the church is important.  Without commitment from our congregation, it is hard for us to know how much or when tithes will come in to support our ministries. Talk about going on faith! Giving is good, but commitment to a schedule is great!  Why this Envelope is Important begins Oct. 29th and ends on Nov. 19th when students will be given the opportunity to make their own anonymous monthly commitment for the 2018 Faithful Giving campaign.

Youth Leadership Council Applications Available
Wewill be starting a Youth Leadership Council in January of 2018.  Students must submit an application and be willing to be a part of the planning, welcoming and work it takes to run and clean up from youth activities.  This will be a great opportunity to add a leadership position to your college resume.  To begin, the council will meet once a month (and probably on a Sunday at some time).  If needed we may bump it to twice a month, but we will start and see how it goes.  Applications will be available on the Youth News Rack, or you can click here to download it and fill it out at home.  The deadline for the application is November 19th and must be put in the box outside April's office (located in the main church office).
Sr. High Silent Auction Baskets
Do You Have a Heart for Youth
I still need a few helpers once or twice a year to teach Sunday School.  I send you the lesson on the Tuesday the week prior and have it all laid out for you.  If you think you might like to try it once,
click here to access the SignUpGenius
and choose a date and which group (Jr. High or Sr. High) you'd like to help with.  Thank you!