SUNDAY, September 9, 2018
SLAM (Sunday School) – Yes!  Week 3 in our Plugged In Series by Doug Fields!
SNL (Sunday Night LIFE or Youth Group) – YES!  We're starting a two week series about TRUST.
Jr. High (grades 6, 7, 8) – 4:00 PM – 6:00 PM
Sr. High (high school) – 5:30 PM – 7:00 PM
Snack Supper for ALL Youth – 5:30 Provided by The Miller Family – Thank you!
---
Alaska Registration "Guarantee" Deadline Sept. 15th – See information at the end of this email.
---
Parent Social 
On September 23rd I will need help taking youth to the 1.Church event at Cherry Hills Community Church (read more about that below).  Please don't choose to "opt out," as it's an incredible event and a moment that will really inspire your youth in their faith.  I thought that evening would be a great opportunity for parents to have a social time to visit and get to know each other.  I've selected Parry's Pizza & Bar in Highlands Ranch (9567 S University Blvd, Highlands Ranch, CO 80126) as a meeting place.  It's not too far from Cherry Hills and would be a wonderful place for you all to gather and get to know one another better.  IF YOU CAN NOT GO – your child can still attend 1.Church, and we will offer rides from PUMC to Cherry Hills for the 1.Church event.
Sunday, Sept. 23rd – 1.Church – Doing Together What We Cannot Do Alone
An amazing event for youth all over Denver called 1.Church – meaning, we ARE all really one church, loving and worshiping one God and that we are all members of Christ's Church.  It's a fun evening of blow ups, food, games and a social/fellowship time for the youth.  Then there is a service RUN completely by youth: the band, the testimonials, the evening's activities, all run by youth.  It will be a wonderful night with a focus of seeing who else from your school is involved in a youth ministry.  Hopefully this will help to prepare and launch us toward See You At the Pole – a school prayer event.  We will meet at PUMC and caravan to Cherry Hills Community Church.  Click here to see a video from last year's event.   This year, I am hoping parents will drop students and then attend a dinner together to get to know each other better at Parry's Pizza in Highlands Ranch.  Afterwards we will need help taking the students back to Parker.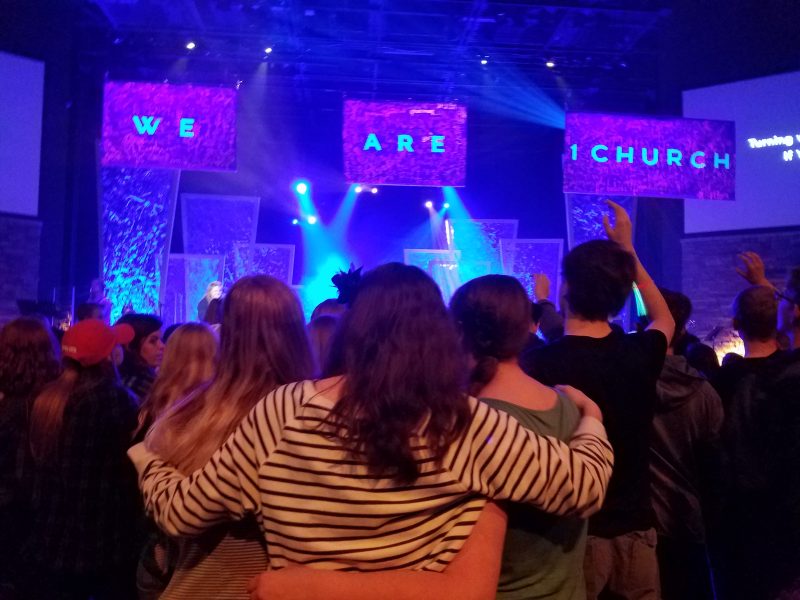 Church Picnic, Sept. 30th & YOUTH BIKE RIDE
For SNL (Youth Group) on Sept. 30th we will be taking a bike ride from Challenger Park and going north on the Cherry Creek Trail.  We'll be stopping at an area off of the Bronco's Parkway intersection for a devotional (and maybe dessert….).  Then we'll head back to Challenger Park.  The picnic will begin around 12:30, so we will plan to depart around 1:15 and come back around 3:00.  There will not be regular SNL (youth group) at the church that day.  IF YOU DON'T HAVE A BIKE RACK ON YOUR CAR – you may take your bike(s) the day before and lock them up at the park if that helps.  Parents are welcome to ride along.
Parker Task Force Food Collection Saturday, October 20th and NO SNL (Youth Group) on Oct. 21st (please add/fix green calendars)
The Youth are signed up for two different time slots to help the Parker Task Force collect food on October 20th.  We will be at the Parker Wal-Mart from 10-12 and 12-2.  Have your youth contact their friends and pick a time slot that works best.  I am encouraging youth to eat lunch together in Subway either before their shift (11 AM) or after their shift at 12:00.  It will be a great opportunity to offer our service and also have great fellowship time together. CLICK HERE to choose your time slot.  I will sign off on these hours for High School Community Service Hours!  Just a little bit of Trivia – Did you know that the PTF was started long ago by PUMC Member Nancy Gripman?  She passed away recently, and a statue of her was just commemorated in O'Brien Park that was actually made by another PUMC member, Don Budy. (Don also made the cross that hangs in the front of the church, the stained glass, and other statues around Parker).

September 15th Registration

for ALASKA – 8th Grade & Current Sr. High Students
Our Mission Trip is June 8-15, 2019.  CLICK HERE to view and download all the UPDATED information, fundraising information, and the registration form.  Our deadline for a guaranteed spot is September 15.  After that time Thirst Missions will release unsecured registrations to other churches.  You will be able to register after September 15 ONLY if there is space.  There may be, I just don't know.  Click here to view the video regarding our trip with Thirst Missions to Alaska.  A flyer about the Thirst Mission's Alaska trip is also available on the Youth News Rack.
High School Students Thinking About Colleges
Are you starting to look at colleges?  If you're considering a Christian college here is a link to several Christian College Fairs occurring in September.  Perhaps you can find a date and location that works for your family if you are interested.  CLICK HERE to access the flyer.