Sunday, Sept. 4
Sunday School – No. It's communion Sunday.  Please attend service with your family.
Youth Group – No. It's Labor Day Weekend. Rejoice in no school and be glad!
Upcoming Events August/September See Details Below
Fri. 9/9 – Ponderosa Football Fellowship
Fri. 9/16 – Jr. High Lock In
Sun. 9/18 – Sr. High Ropes Course
Sun. 9/25 – Jr. High Ropes Course
Fri. 9/30 – Sr. High – Special Needs Homecoming Dance
Sign Up Now – Ropes Course Team & Faith Building
Get your homework done and come on!  SIGN UP AS SOON AS YOU CAN if you plan to attend. Please email me (April@ParkerUMC.org) or sign up on the clipboard in the youth room. We ask you to pay $20, which is half of the cost, anytime from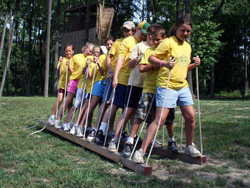 now up to the date of the event. We would love for EVERY youth to participate, so we can really get to know and trust each other as a group.  I will definitely need some parent drivers. (You are welcome to stay and help/participate, but it's not required.)  The ropes course is in Larkspur. We will meet at the church at 11:45, for a 12 departure. Please eat before you arrive. Expectation is to return to the church between 6-6:30PM.  Students will call parents on the way back for a more accurate pick up time.
Senior High September 18, 11:45-6:00PM
Junior High September 25, 11:45-6:00PM
Special Homecoming Dance
Senior High – We have a unique opportunity to reach out to the special needs community on September 30th.  Here at the church there will be a Homecoming Dance.  If you're available to attend you'll experience something wonderful and amazing that will keep you returning year after year.  Arrive all dressed and spiffy at 5:45, so we can line the walks and welcome the attendees with claps and cheers as they arrive. Spend the evening visiting and dancing with some wonderful young adults.  They will have a great time, and so will you!  Friday, September 30, from 5:45 – 8:30.
Junior High Lock-In
Put it on your calendar – Friday, September 16, 7PM at the church.  Pick up from the church will be Saturday, at 9 AM.  Students need to bring a sleeping bag and pillow (air mattress or cot if desired). Even if your child says they are not going to sleep, please have them bring these items!  I will also need 2-3 brave adults!  I just need some extra eyes/supervision.  Email me if you're able to help out.  April@ParkerUMC.org
Do You Need Volunteer Hours? Do You Like to Help? 2 Opportunities!
The Feed My Starving Children Fundraising committee is planning a family event on

Sunday, Sept. 11th

from

9am

till about 

noon

.  It's a "Feed-Raiser" Painting Party. We need extra hands for cleaning up paint spills, distributing supplies and walking people through the steps. Would you be interested in helping with the event for a couple of hours for community service hours?  Please text Jen Huey at 720-878-4954if you're available.
Joyful Noise Children's Choir needs some teenage volunteers.  If you're in 8th grade or older, you're eligible to help! Joyful Noise meets from

4-5:30

 on Wednesdays. You can receive community service hours, but you'll also be rewarded emotionally as these children will look up to you and love you!  Contact Krisha at (303-518-7797) krisha@parkerumc.org or Wendy McDevitt at (303-503-4489) wmcdevitt5@gmail.com