Join a Virtual Small Group Today!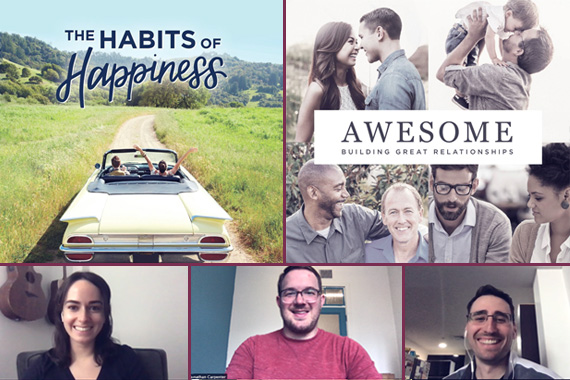 Now is a great time to get connected with a virtual small group. We're starting up a brand new group and a new study in one of our existing groups. Come as you are, join when you can, we're excited to meet you!
New Class: Habit of Happiness
Starting date : Monday April 13th
Contact: Rich Oppmann (rich.oppmann@outlook.com to join group, get set up for group Skype call)
Materials will be sent off prior to class via PDF files
Required Technology: PC, iPAD, MAC, Mobile Device with Skype installed and with Skype Account (Free)
Resources:Provided by E-mail each week before lesson
Duration: Approximately 6 weeks
Key ideas of "Habits of Happiness" • Don't look for happiness, CREATE IT! • Remember the best, forget the rest • Be grateful! • Never let others control your attitude • Trust God to work things out • Do what's right! • Never demand what you think you deserve • Refuse to worry about anything (worried these days?) • Talk to God about everything! • Be content with what you have • Remember every day what matters most!
Check out a short promo of the lessons: https://www.youtube.com/watch?v=8MULlgUH4Nc&feature=emb_logo
Existing Class, New Study: Awesome: Building Great Relationships
Starting Sunday April 5 @ 8:00pm
4 week study by Rick Warren: Awesome – Building Great Relationships
New members of the group welcome
Contact Rich Oppmann (rich.oppmann@outlook.som) to join group, get set up for group Skype call
Materials will be sent out prior to class via PDF