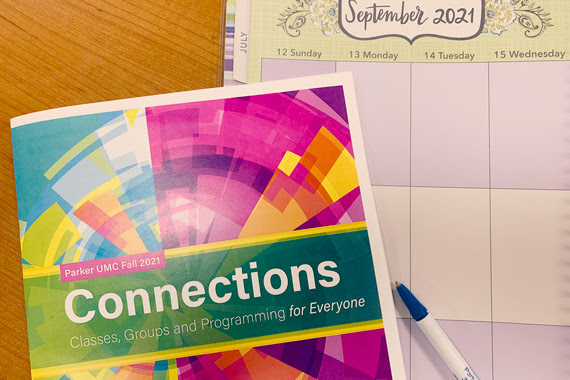 Our Connections Catalog is Full of Classes, Groups, Bible Studies and Ways to Connect!
Dear Friends,
We are excited to offer in-person small groups for families, youth, and adults as well as continue some small group Zoom offerings. Inside these pages are some familiar offerings as well as some new opportunities for you to explore as you study, deepen your discipleship, and meet new friends.
Small groups are one of the proven ways we grow our faith. As you meet with others, share together, question together, support each other, you will find that you listen intently for God's voice in your daily walk. If you have an idea for a small group you would like to create based in study, fellowship, or a mission outreach activity, we invite you to reach out to a staff member to explore starting a new small group ministry.
We look forward to the 2021 Advent and Christmas season. As I write this in August, our hope is to continue in-person offerings in the sanctuary throughout the Advent and Christmas season, including Handel's Messiah, a visit by Santa and Mrs. Claus, and other ways to celebrate together. We will also host holiday activities with our Little Blessings Preschool. We are underway with planning this year's holiday events and looking forward to celebrating the season with you.
I hope you will attend worship regularly (either in person or through our online activities) and add at least one additional way to engage in study, fellowship and outreach. Your church staff and the lay leadership are ready to help you discover the next new opportunity for you to exercise your prayers, presence, gifts, service and witness here at Parker UMC. Welcome to the fall at PUMC!
The Connections Catalog is filled with opportunities for you and your family to deepen your journey with Jesus. You will find many ways to actively build connections with each other and your faith through study, outreach and fellowship. Pick up your copy at the church on Sunday, or any time 9-4 Monday thru Friday, or download your digital copy here.
In Christ, Pastor Barb