Scouting has been a vibrant youth program in the United States for over 100 years, and has been supported by the Methodist Church through unit chartering and sponsorship for almost that long.  Parker United Methodist Church has supported Scouting for 44 years, starting with Boy Scout Troop 16 in 1973, and more recently with Cub Scout Pack 369 and Venturing Crew 16.  The Cub Scout and Boy Scout programs focus on young men, while the Venturing program focuses on Co-Education programs for youth 14 to 21 years of age.
The Mission of the Boy Scouts of America is to prepare young people to make ethical and moral choices over their lifetimes by instilling in them the values of the Scout Oath and Law.
Scouting's Vision is to prepare every eligible youth in America to become a responsible, participating citizen and leader who is guided by the Scout Oath and Law.
Our Scouting programs serve over 150 youth, with the above mission and vision statements serving as their guiding principles.  Each unit meets and conducts activities year-round.
For more information, contact the Church Office, or Sid Hughes, Scouting Liaison for the Church.  sidhughes@mac.com.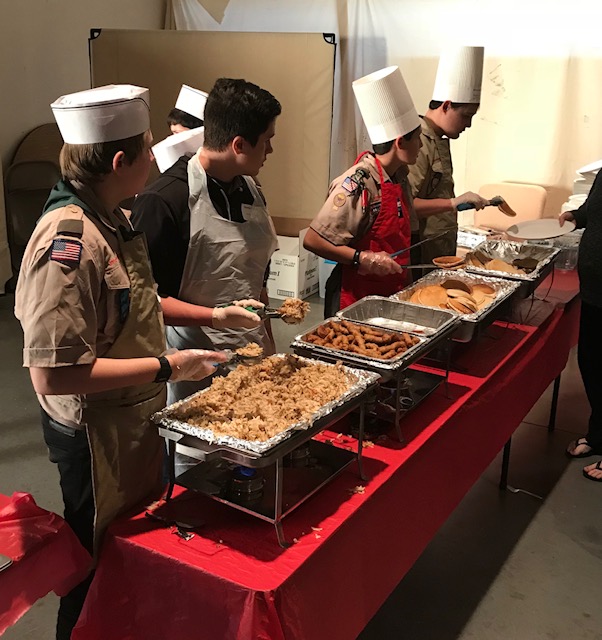 Troop 16 Thanks Parker UMC for Pancake Supper Support
The pancake supper on February 13 was a huge success the scouts served over 400 guests!
The room was beautifully decorated for the event with balloons, centerpieces and festive table covers. The Boy Scouts, ranging from 10-17 years old served guests pancakes, sausage, hash browns, cleared and cleaned tables, greeted and thanked!  A wonderful way for  these young men to interact with the community along with practicing leadership, respect, communication, service and cleanliness.
This coming year the troop is planning some amazing trips again including all year long camping (even in below zero temperatures). Your support makes all this possible!
The scouts in Troop 16 hope to see you again soon and at nexts year pancake supper!