Sunday, July 29th, 2018
Sunday School – Yes, if you'd like to help Children's Sunday School at 9:30 AM please go to the Fellowship Hall and check in with Noelle and Erin!
Youth Group – YES!  Kickball & Picnic – see below for details
---
Last week we enjoyed the musical Sister Act.  Later that evening some of the Sr. High hung out in O'Brien park for ice cream and fellowship!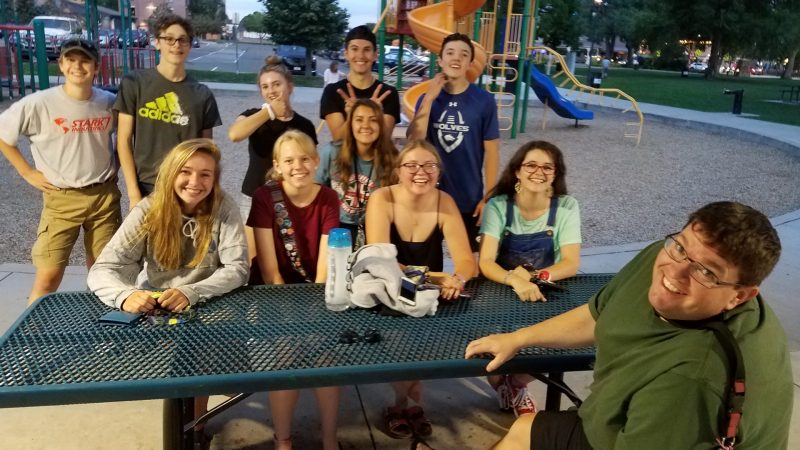 ---
KICKBALL – THIS SUNDAY!
ALL YOUTH – new 6th graders through college!  Come on out for kickball and a picnic.  We'll be meeting at the Rowley Downs park from 5-7 PM. Parents are allowed to stay, play and eat, but do not have to.  Please click here to signup for picnic contributions. You should see the park if you use this address: 20184 E Williamson Dr, Parker, CO 80138.
POOL PARTY AT H2O'BRIEN
ALL YOUTH – We will meet at H2O'Brien from 12:00-3:00 PM on Sunday, August 5th.  No sign up – just show up.  Pool entrance fee is $4 (please tell them you are with the PUMC group). We will try to meet under the big pavilion, but it's first come, first serve. So, we will either meet there or somewhere near there. Students may either bring in food or bring a little more money for the "snack shack."  Parents, for everyone's safety, please COME IN to pick up your youth.  Friends are welcome!
NEW SIX GRADERS – A Mini Retreat Just for You

On August 24th we will embark on a FREE mini retreat to get to know each other better!  Cori Fitzpatrick, and I will be leading this one night adventure as your pre-teens director and youth director.  Please mark your calendars and
sign up by clicking here
.  Students will need to bring bedding for the floor (for example an air mattress and sleeping bag – I'll have air pumps). Once they are signed up, I will email parents the Emergency/Permission form you will need to have filled out for the trip.  We will be going to Littleton United Methodist Church, to use their retreat space.  Please watch emails for further details.
Snack Dinner Signup 2018-2019
A large part of our fellowship for the youth revolves around our snack supper time.  Each week a family provides an easy snack supper for the youth.  Both Jr. High and Sr. High eat together in the narthex from 5:30-6:00.  Dinners can be pasta, subs, baked potato bar, etc.  Although pizza is easy, we try to reserve that for emergencies, as the kids do tire of it quickly.  CLICK HERE to sign up for a Sunday snack dinner.  See the sign up for more details. Thank you so much as it adds another level of fellowship on our Sunday evenings.
Connect with the Youth
Do you have 4-5 Sundays a year that you could visit with the youth at 9:30 Sunday mornings?  We could use a few more leaders for Sunday School this year. We begin together and then break out for discussion.  You can choose middle school or high schoolers.  We just need help in leading our discussion time.  If you think you may be interested (or if you know you are), reach out to me by text (720-383-1577 or email – April@ParkerUMC.org.
REMIND 101 – COMMUNICATION TOOL FOR YOUTH & PARENTS
The Youth have an account with Remind 101 so youth and parents can receive short, FREE texts or emails from me reminding them of activities or changes coming up!  It's easy to subscribe to and FREE (even if your phone says you may incur charges – fear not!)  There are two different groups (Jr. High and Sr. High).  As you get older you can switch groups, or stop receiving them at any time.  Or if you sign up to receive emails, but then get a cell phone later, you can switch from receiving emails to texts.  It's easy and I will ALWAYS have the information available on the bottom shelf of the Youth News Rack. (Green for Jr. High, Purple for Sr. High)
Senior High
For texts:   text to:   81010   in the message area type: @a43hd   to unsubscribe:  reply: unsubscribe@a43hd
For emails:  send an email to  a43hd@mail.remind.com   to unsubscribe:  reply with "unsubscribe" in the subject line
Junior High
For texts:  text to:  81010   in the message area type:  @dcf74   to unsubscribe reply: unsubscribe@dcf74
For emails:  send an email to  dcf74@mail.remind.com  to unsubscribe reply with "unsubscribe" in the subject line