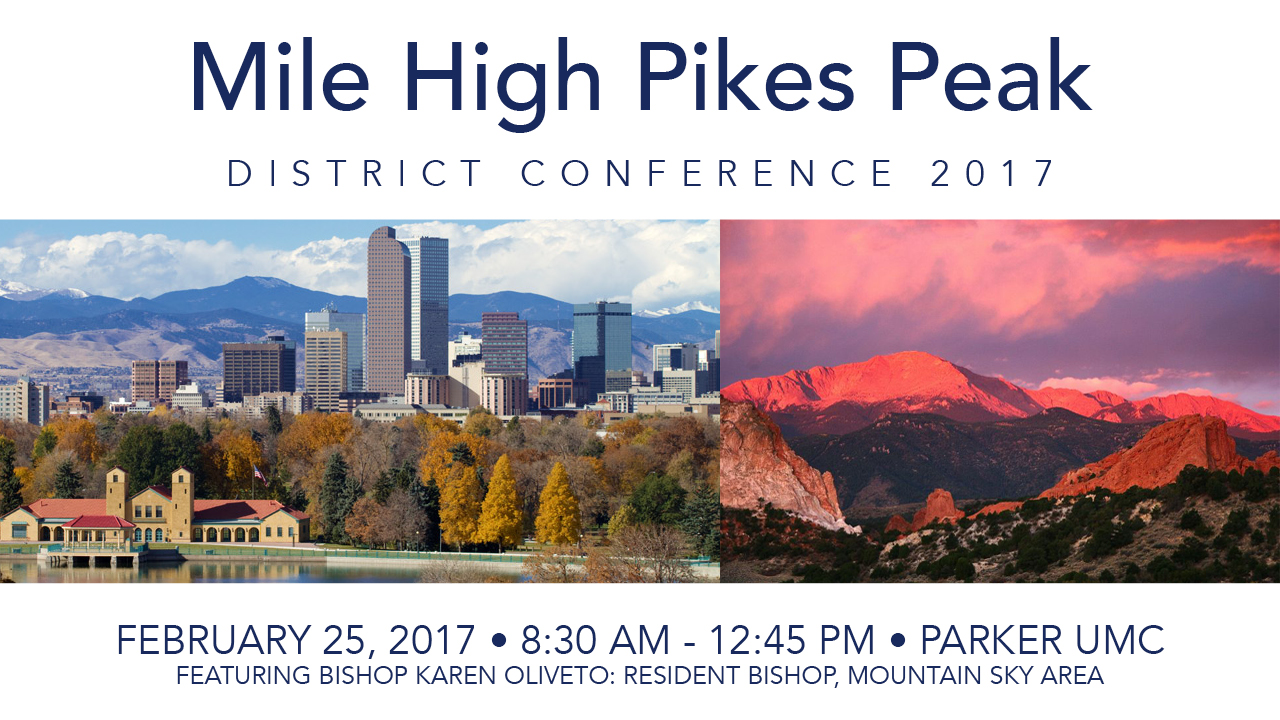 Mile High Pikes Peak District Conference
February 25  8:30 am – 12:45 pm
Registration Deadline: February 10, 2017
The church has paid the registration cost for everyone to attend but you need to register for workshops if you'd like to attend them. You don't have to attend workshops, you can attend morning worship only, if you like.
Register online at www.mhpp.rmcumc.org
—OR—
Email: Brenda Schafer, office@stlukeshr.com
Please include all the info requested below.
Note: If you need child care, please give us the child's name and age when you register. Child care reservations must be made by Feb 10.
8:30 am—9:00 am: Registration
9:00 am—10:15 am: Worship / Business
10:30 am—11:30 am: Workshop Session 1
11:45 am—12:45 pm: Workshop Session 2
Workshop Descriptions
Shaping Christian Disciples (Jeremy Scott) — The one common bond of vital churches is intentional discipleship. The core mission of every local church is to make disciples and this cannot be left to chance. Being more intentional about discipleship doesn't need to be daunting and is within reach for any sized church. It begins by building on your existing strengths as a congregation and discerning where God is calling you next. You will learn about a team based pro-cess for developing a discipleship system in your church and leave with all the materials you need to move forward.
Leading the Church into the Mission Field (Bishop Karen Oliveto) — How can your church form relationships with people in the surrounding community in order to find mutual, life giving connections? As Senior Pastor of Glide UMC, a diverse, vibrant, radically inclusive, missional church of 11,000 members, Bishop Oliveto helped mobilized the church to alleviate suffering and break the cycles of poverty and marginalization. This workshop will help participants lead their churches into the mission field in any location.
The Four C's of Worship (Indiana Martin) — Any church can create worship that is Consequential, Cohesive, Creative, and Cost-sensitive. An intention-al, quality and sensory-rich worship experience is not left only to large churches with large budgets, but is available to every congregation. In this workshop, you will learn how to create worship that will feed, engage, encourage, and equip your people, no matter the size of your congregation, budget, or worship style. You will get more than just principles and ideas; you will walk away with practical and exciting tools that you can implement in worship next Sunday!
Fresh Expressions of Ministry (Diana Huerta) — A fresh expression of ministry is a form of church for our changing culture, established primarily for the bene-fit of people who are not affiliated with any church. It is a way of building relationships and meeting human needs, which is what Christians are called to do. It seeks to fit the context, it aims to form disciples, and it intends to become a church, although it may look very different from what we are accustomed to. Come explore opportunities for new ways to make a difference in your community
WORKSHOP LEADERS
Rev. Jeremy Scott currently serves as the Vital Congregations Developer for the Mountain Sky Area. Previously he served as pastor in Billings Montana and Columbus Ohio. His first career was as a software engineer and today he is married with two children. In his free time he enjoys cooking and flying his drone.
Bishop Karen Oliveto is resident Bishop of the Mountain Sky Area, coming to us from Glide Memorial UMC in San Francisco. She has served churches large and small, urban and rural, and is passionate about helping our churches become vibrant, inclusive communities filled with spiritually mature disciples. She has a particular passion for small, marginalized communities. Bishop Oliveto holds a PhD from Drew University and has served as Adjunct Professor of United Methodist Studies at the Pacific School of Religion. (See more on back page)
Indiana Martin is a young leader and lay person who has grown up in the United Methodist church, and has been on the worship staff in churches in Col-orado and Arizona. He believes that worship is first a life style, and secondly the place to equip and introduce people to God as they are then commissioned to go and serve the world. He holds a degree in Design Management from Arizona State University and currently serves Wilson United Methodist Church in Colorado Springs as their full time Director of Worship Arts. He also operates his own business, "Martin Design and Worship," in which he partners with churches to aid in their design, communication, and worship needs.
Diana Huerta is a Management Consultant who serves on the Board of Lay Ministry as the point person for Fresh Expressions. In addition to the BOLM, she serves on the Metro District Committee on Ministry, was a delegate to the 2016 Jurisdictional Conference, and a delegate to the 2012 General Confer-ence . She is a former Co-Lay Leader of the Metro District, and is a member of Trinity United Methodist Church, Denver.