You've reached the page for all that's happening at Parker UMC for the week (published Wednesdays). If you'd like to get this information emailed directly to you click the subscribe button below.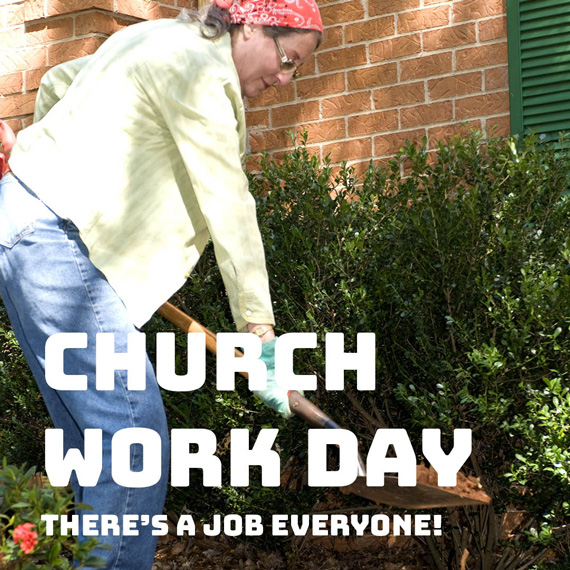 Our Annual Church Work Day is Saturday, May 21st
Please join us as we pitch in to keep Parker UMC looking its best! The Church Work Day will be held on Saturday, May 21st. Various interior and exterior projects such as deep cleaning the kitchen, spreading mulch, weeding and other work will need to be done to maintain our Church building and grounds. The work will be done from 8am until noon. If you have any questions, email Sarah at office@parkerumc.org. We look forward to seeing you that day!
Help Us Prepare for New Staff by Updating Your Contact Information and Photo
As we get ready to welcome a new senior pastor and a new Director of Youth Ministry, we are working on updating our directory to include recent pictures of everyone who attends our wonderful faith community. Please take a picture of you and your family and either upload them into your CCB account, email them to the office@parkerumc.org or text them to 720-775-7154 so that we can update them for you. If your contact information has changed we ask that you update this information as well. This will be such a help and a blessing!
Join Us at The Table Tonight!
Join Us for a Meal and Conversation. At The Table, we will join together to share a meal, share stories and reflections about life, to celebrate with one another, to create friendships, and to do a mission project together. All are invited, from the youngest to the oldest and everywhere in-between! Our next gathering is tonight, May 11th from 5:30 – 7:00 p.m. RSVP is preferred to Emily Shaffer at emily@parkerumc.org. Want to learn more? Contact Pastor Cody through the church office or email Cody@ParkerUMC.org.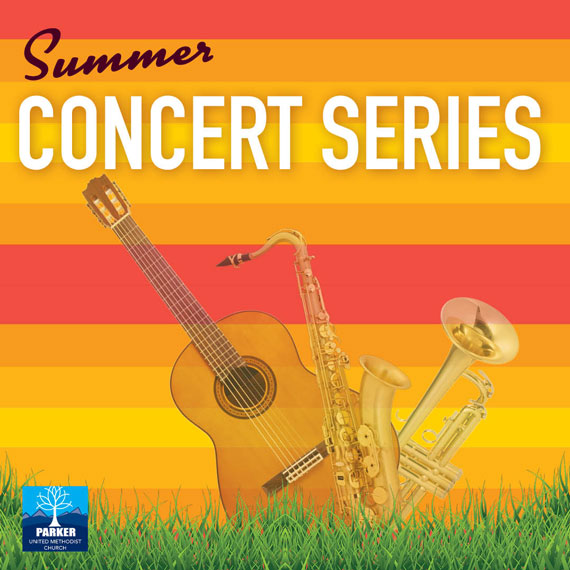 Summer Concert Series
Parker UMC is proud to offer three Summer concerts! If you love music you won't want to miss one. We'll be using our indoor and outdoor venues and we're sharing a variety of styles so there really is something for everyone. Keep an eye out in our weekly emails and social media for upcoming dates and concert details.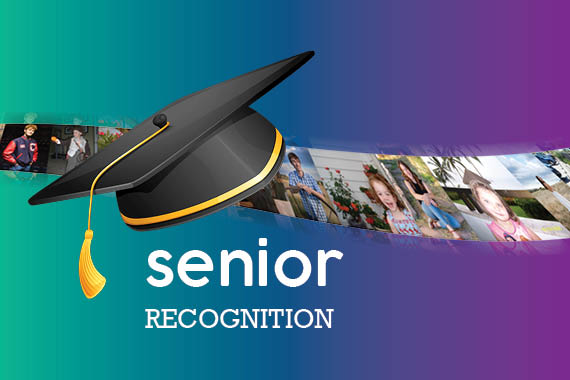 Senior Recognition this Sunday
Please join us this Sunday at our 9 a.m. service as we recognize and celebrate our HS seniors. Please pray for them and their families as they close one chapter and move on to the next!
Small Group Brainstorming Meeting Next Sunday
Join us Sunday, May 15th at 10 a.m. to brainstorm new ideas for our small groups ministry. We need all of your voices! The more folks that share the better our small groups can support you in your walk. Questions? Email Cody@ParkerUMC.org
You Are Invited to a Global Hope Open House
Meet Dr. Saji John and Benedict John, Global Hope's partner in Hyderabad, India Friday, May 13, 2022 from 2 – 4 p.m. at Parker UMC.
Refreshments will be provided. Drop in when you can, stay for a few minutes or the whole two hours. We have the privilege and unique opportunity to meet with Saji and Ben in person. They will provide an update on the excellent work and care of the children at Global Hope ministry location in Hyderabad. They will provide an update on our newest home – Ruth Girls' Home and our recent home opened in 2021 – Esther Girls' Home. You will be able to see pictures of the girls and learn about the new school on campus. Saji is a very inspirational speaker so you will not be disappointed! Please email Scott French: scott.french@globalhope.org to RSVP. Above photo: Scott with Saji in India a few years ago.
Hope to see you there,
Scott French
Director of Generosity, Global Hope, Inc.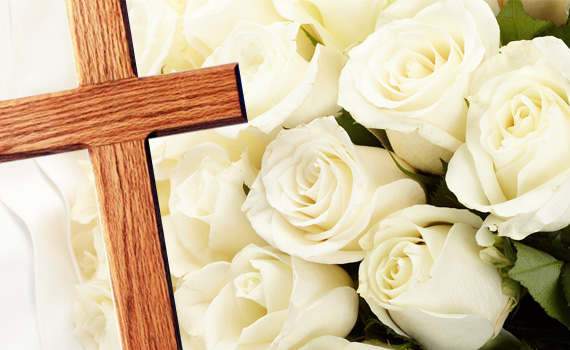 Memorial Service for Gary Jonathan Woods
The Celebration of Life for Gary Woods, who attended our church for many years, will take place at 11 a.m. on Saturday, May 21, 2022 at PUMC. Gary is the former husband of Karen Suppes, father of Lauren (& Yasi) Cassini, Lana (& Evan) Geist, Lane Woods, Larissa Woods, and grandfather of Daisy Geist. The family has so appreciated your loving support, thoughts, and prayers since his passing, and they look forward to seeing you at his memorial.
Flowers may be sent to Parker United Methodist Church, or, in lieu of flowers, perhaps consider contributing to causes dear to his heart:
Ukrainian Humanitarian efforts (i.e., UNICEFUSA.ORG or Global Hope)
Animal Welfare (i.e., Trevor's Animal Rescue, www.trevorsanimalrescue.com or the Dumb Friends League)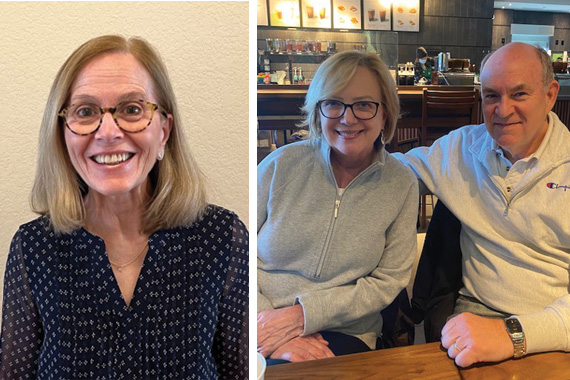 Please Welcome Our Newest Choir Members
Leslie Levy: Leslie and her husband, Alan, recently moved from New Jersey to Aurora, CO to be close to daughter Caitlin Cacioppo, son-in-law, Steve, and granddaughter Nora Jayne. Leslie is thrilled to be singing with the Parker UMC Choir.
Debra and Allan Hoffer: In December, 2021, Debra and Allan Hoffer moved to the Parker area from New Albany, Indiana (Louisville, KY Metro suburb) with their mini goldendoodle, Webster. Allan is the son of two music educators and Debra studied voice at Indiana University and has sung in choirs ever since. They feel blessed that the Lord led them to Parker UMC. They have four adult children and five grandchildren who are planning frequent vacations to explore Colorado.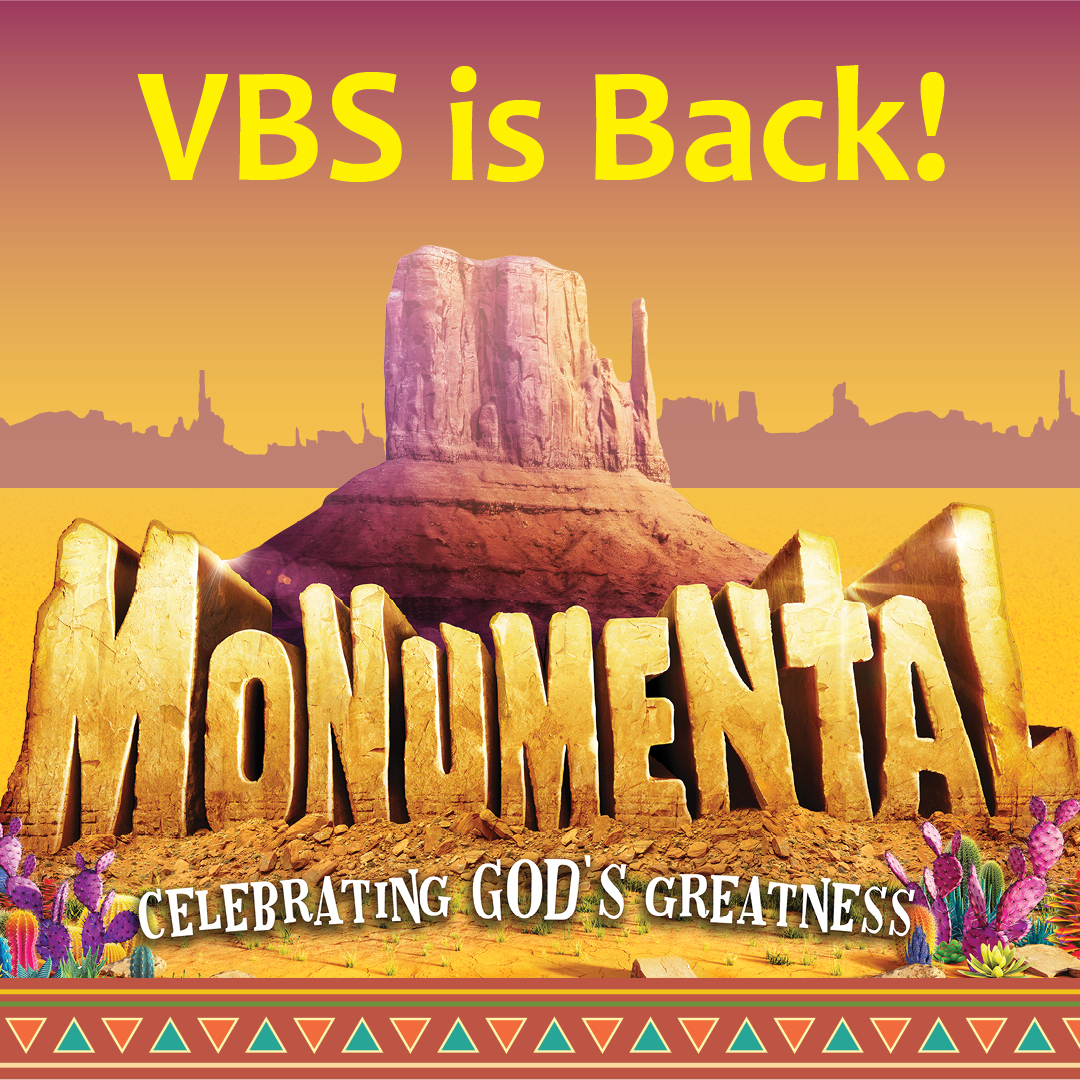 Register Your Kids or Grandkids Today!
At Monumental VBS, kids explore the sunbaked Southwestern desert as they dig into God's great big love! Your kiddos will participate in memorable Bible-learning activities, sing catchy songs, play teamwork-building games and test out sciency fun gizmos they'll take home and play with all summer long.
When and Where: June 13 – 16 from 9 a.m. – Noon at Parker United Methodist Church
Cost: $40 per child or $65 for the family
Register Your Child: www.ParkerUMC.org/vbs
Contact: Noelle Allison, Director of Children and Families, Noelle@ParkerUMC.org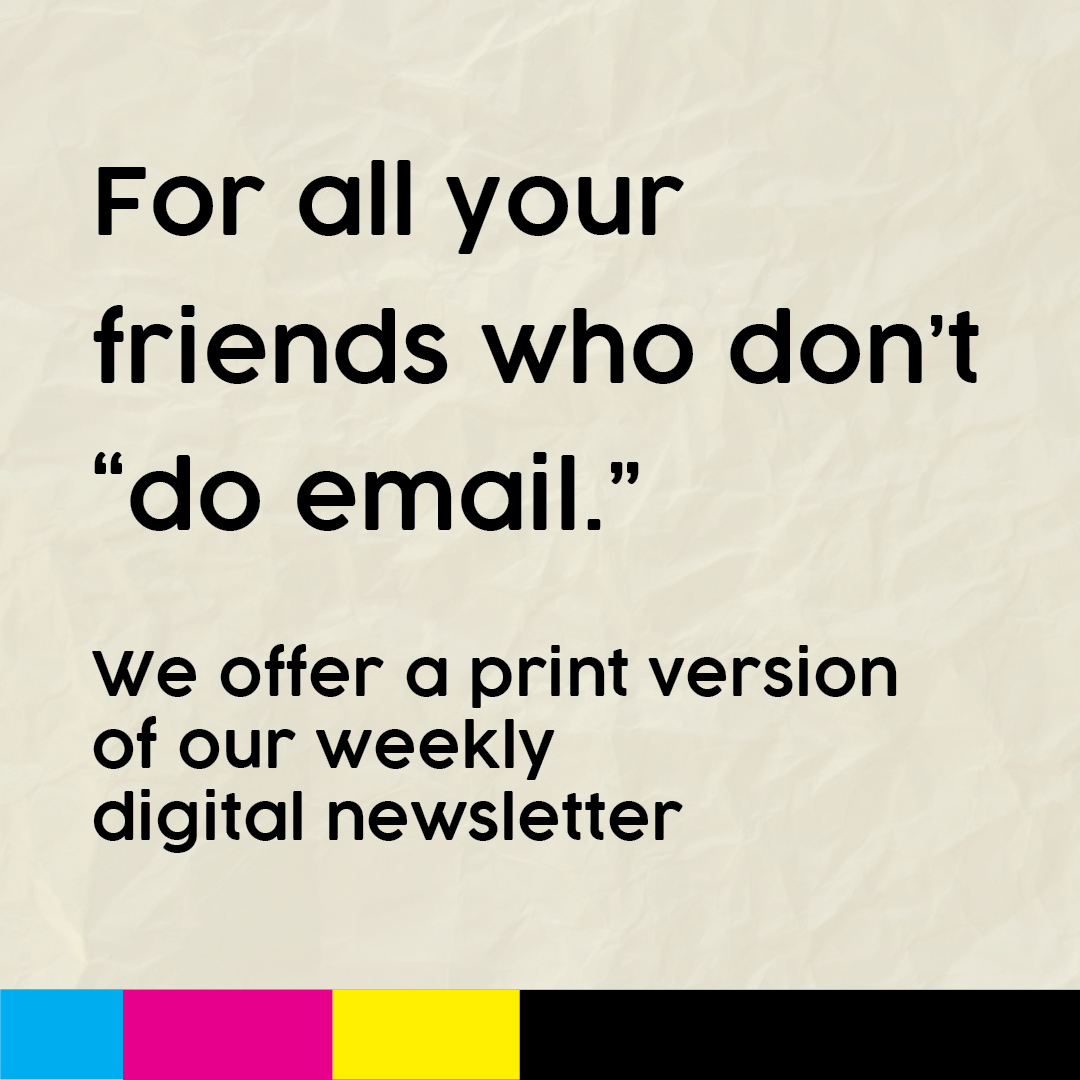 Do You Know Someone Who Needs Their News in Print?
During the recent Recalculating conversations some folks shared that there are some gaps in communicating ministry highlights, events, special services, and announcements. We want to you know we hear you, and are taking steps to close those gaps. Over the next few weeks we'll be sharing tips with you that will help increase awareness of the wonderful programs, studies, groups, classes, and special events we offer. This week we're focusing on our weekly printed news copy, available Sunday mornings.
If you're reading this email you don't need printed news. But you may find printed news easier to access or you may have friends that don't "do email." If that's the case please pick up a copy of our weekly printed news copy on Sunday mornings at one of our welcome tables. Take it for yourself or give it to a friend. It's the same news you get here in the Midweek but you can pick it up and take it home!
Mark Your Calendars! NEW Summer Worship Hours
Beginning Sunday, May 29th we will be moving to Summer worship hours. Join us for ONE SERVICE ONLY at 9:30 a.m. We will be offering some special gatherings and events after services, so please keep your eyes open for that information in the coming weeks.
Help to Support Ukrainian Refugees
If you feel called to support the surge of suffering refugees fleeing from Ukraine to safety, you may give with confidence thru UMCOR or thru Global Hope.
Gifts to UMCOR to support the people of Ukraine can be made in the following ways:
By toll free telephone: 888-252-6174
By check with "Advance #982450-Ukraine" written on the memo line, either mailed and addressed to Global Ministries/UMCOR, GPO, P.O. Box 9068, New York, NY, 10087-9068 or given through PUMC with UMCOR-Ukraine in the memo section
Gifts to Global Hope may be made online at https://www.globalhope.org/giving/ Click on Donate, Give Once, and select Ukrainian Refugee Relief from the drop down menu. Checks to PUMC should be marked Global Hope-Ukraine in the memo section. Gifts will go directly to two of Global Hope's partner churches in Romania who are helping refugees who have entered Romania. All gifts to both UMCOR and Global Hope will directly support relief with no administrative charges.
This Week's Message
This Sunday's message is The Pursuit of Happiness. It's the second message in our series Making a Difference. The scripture readings for this Sunday are 1 Peter 4:10-11 and John 6:1-13.