Sunday, Sept. 23, 2018
SLAM (Sunday School) – YES! 9:30 AM (room 144) we are finishing up our study by Doug Fields (Plugged In)
SNL (Youth Group) – SPECIAL OFF-SITE ACTIVITY (See Below for details)
---
The last two weeks we have been talking about TRUST(in each other and God).  The Senior High had a great time giving each other support by being trusted and also trusting in each other with a trust fall. (No Youth were hurt during the filming of this program.)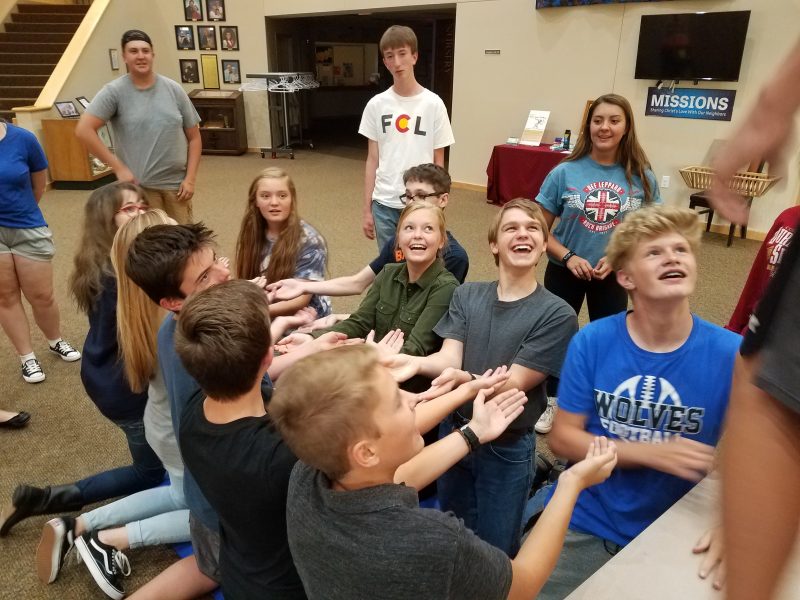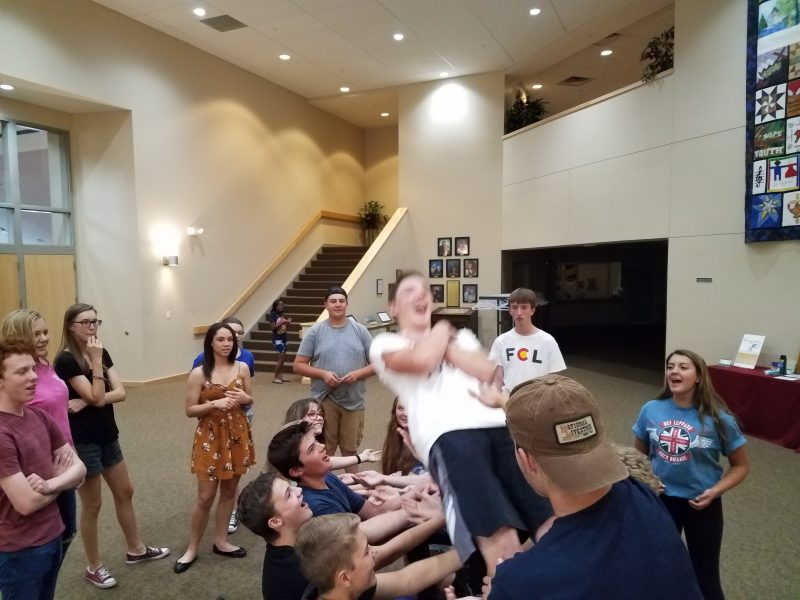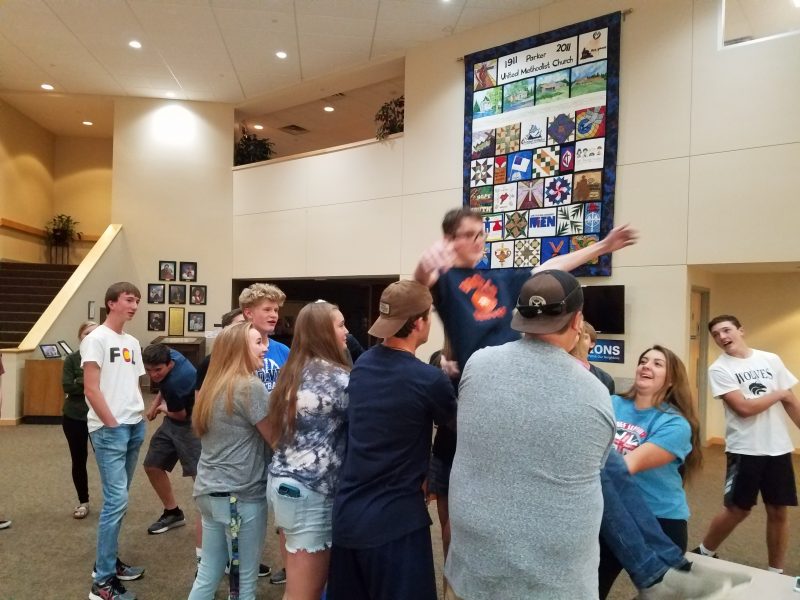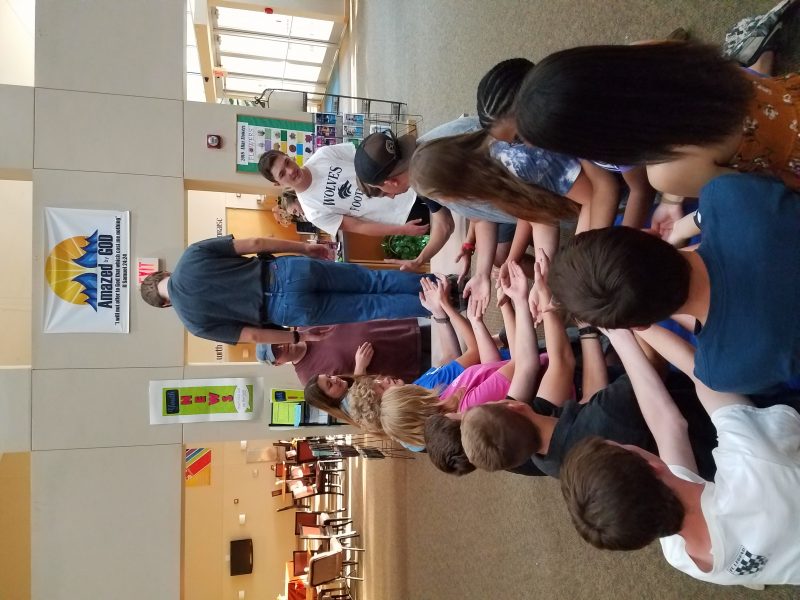 ---
YOUTH GROUP THIS SUNDAY – PLEASE READ
This Sunday instead of meeting at our church we are meeting at Cherry Hills Community Church at 5:40 PM.  I NEED to know IF your Youth is attending, so I know WHO to watch for once we are there.  PLEASE email me (April@ParkerUMC.org) only if your child is attending.  PARENTS, after dropping off your youth, head over to Parry's Pizza in Highlands Ranch to eat and fellowship with other parents!  IF YOUR CHILD NEEDS A RIDE – We will be able to help a few youth with transportation. Please Email me and let me know your child needs a ride (April@ParkerUMC.org).
 IMPORTANT INFO ABOUT 1.CHURCH
I have been playing the video from the last event on April 20th.  This Sunday will look a lot different, as there is no food, blows or games.  Please advise your youth.  There will be a "Youth-Run Worship Service" and then break-out discussion groups by students' schools.  I encourage all youth to attend, but I feel bad that I have "mis-advertised."  So, please let your youth know the difference with this event.  Thank you!
23 Signed Up for Alaska  – As of Now There is Still Room!

Our Mission Trip is June 8-15, 2019.  CLICK HERE to view and download all the UPDATED information, fundraising information, and the registration form.  Our deadline for a guaranteed spot was September 15, however you may still sign up at this time.  Thirst Missions has released unsecured registrations as of now, to other churches.  You will be able to continue to register ONLY while there is space. Please consider registering soon, if you would like to go, but have not yet registered.  Click here to view the video regarding our trip with Thirst Missions to Alaska.  A flyer about the Thirst Mission's Alaska trip is also available on the Youth News Rack.
SEPT. 30th – Youth Group Off-Site 
We will be attending the church picnic at Challenger Park starting at 12:30.  After we're done eating (maybe 1-1:10ish) we'll be taking a group bike ride with Glenn Yinger (resident expert – ha!)  We'll travel on the Cherry Creek Trail to Broncos Pkwy (where there is a nice stop).  We'll do a devotion together, take a rest and then head back to Challenger Park.  There are bike racks at the rec center if it will help you to take your bike the night before and lock it up.  THERE WILL NOT BE REGULAR YOUTH GROUP ON THAT SUNDAY.  I will plan to leave a copy of the devotion with any youth who do not take the bike ride, and they can lead, discuss and do the devotion together (if they want).
NO YOUTH GROUP OCTOBER 7, for DCSD FALL BREAK 
Sorry I will be out of town, along with many other youth on Sunday, Oct. 7th.  We WILL have youth group on Sunday October 14.
Parker Task Force Food Collection Saturday, October 20th and NO SNL (Youth Group) on Oct. 21st (please add/fix green calendars)
We have reserved two different time slots to help the Parker Task Force collect food on October 20th – please choose one that works with your schedule the best.  We will be at the Parker Wal-Mart from 10-12 and 12-2.  Have your youth contact their friends and pick a time slot that works best.  I am encouraging youth to eat lunch together in Subway either before their shift (11 AM) or after their shift at 12:00.  It will be a great opportunity to offer our service and also have great fellowship time together. CLICK HERE to choose your time slot.  I will sign off on these hours for High School Community Service Hours!  Just a little bit of Trivia – Did you know that the PTF was started long ago by PUMC Member Nancy Gripman?  She passed away recently, and a statue of her was just commemorated in O'Brien Park that was actually made by another PUMC member, Don Budy. (Don also made the cross that hangs in the front of the church, the stained glass, and other statues around Parker).
Trunk or Treat Fun at PUMC 
Order your trunk or treat decorations now and start planning to attend our 2nd Annual Trunk or Treat at the church on Oct. 28th.  Youth will be helping the Children's Ministries with games for the event and are encouraged to dress up in costumes. (We'll have a youth costume contest!)