Sunday, July 30, 2017
Sunday School – Yes!  Come join us in the Fellowship Hall at 9:30!
Youth Group – Yes!  MEETING at Rowley Downs Park.  More details below.
---
Last Sunday we had some fun with pajamas, pizza and games!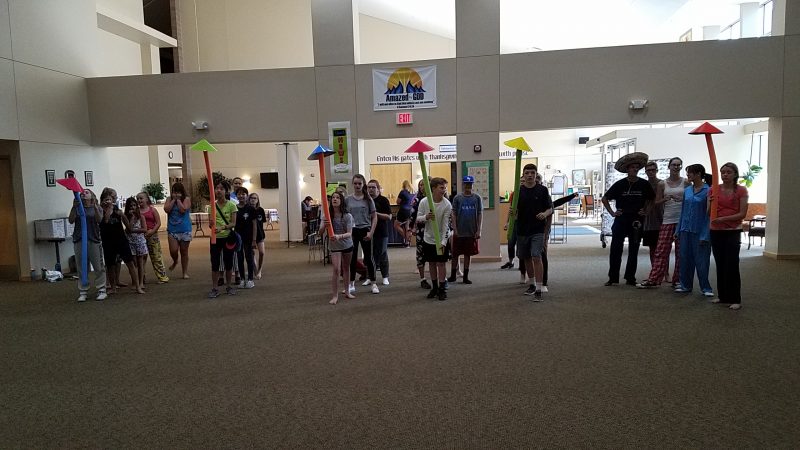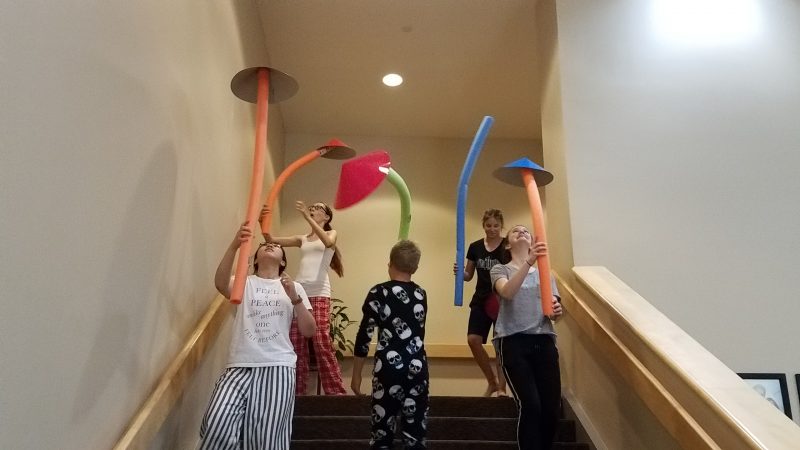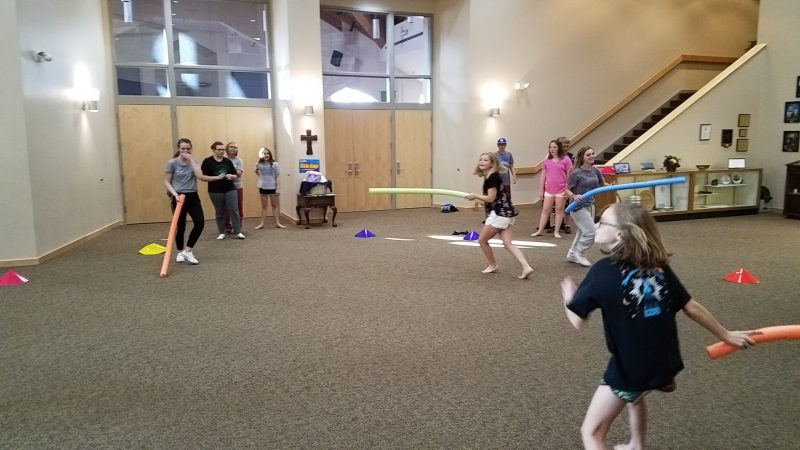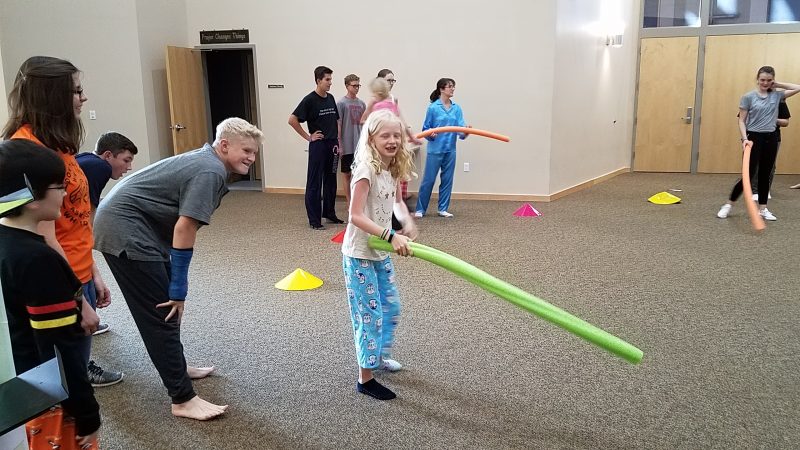 ---
Senior High Mission Trip
If you went on mission trip this past week, please wear your shirts to service this Sunday, as we will be playing the video from our trip!
Picnic and Kickball

this Sunday!
Please meet and join us at the Rowley Downs Park for a picnic and kickball get together from 5:00 – 7:00 PM!  I will have sub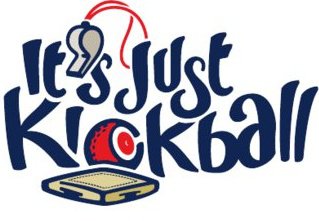 sandwiches.  If your LAST NAME starts with A-L, please bring a 2 liter drink to share. If your LAST NAME starts with M-Z please bring a "family size" bag of chips/pretzels of your choice to share.  The park is located across the street from the Monroe Hall in Rowley Downs.  Use this address and you should see the park across the street:  20184 E Williamson Dr, Parker, CO 80138.
NEW Youth Group Times to Start August 20th!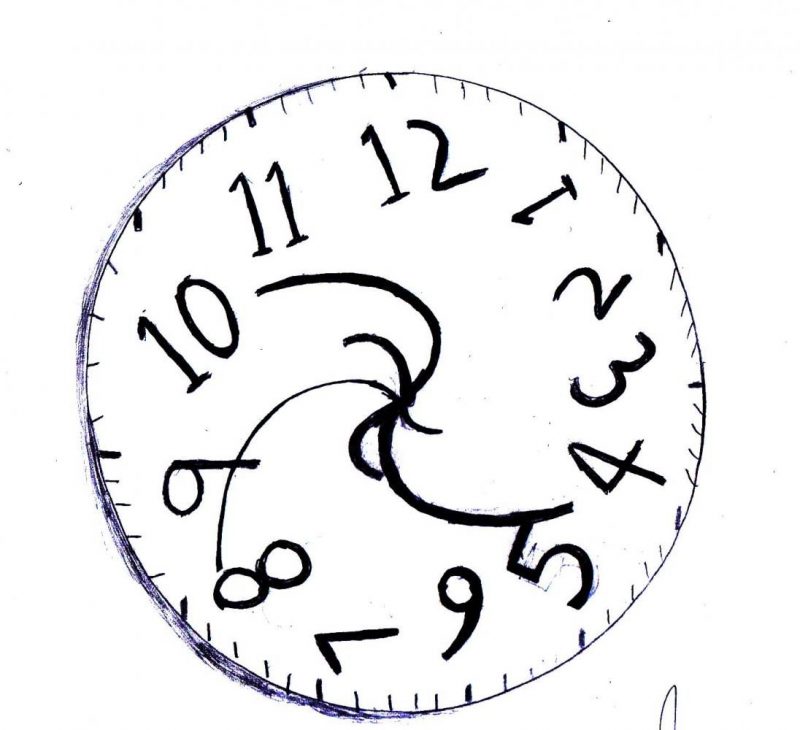 Starting August 20 please notice these new times for Sunday Night Youth Group!
Jr. High Starts at 4:00 – 5:15, then praise & worship at 5:15, Dinner at 5:35, Finished at 6:00.
Sr. High Starts at 5:15 with Praise and Worship, Dinner at 5:35, Group from 6:00 – 7:00.
Carpool to Youth Group?  Yes, Please!
Do you have a student in Jr. High and one in Sr. High?  Or would you like to connect with another family just to make life simpler for you on Sunday nights?  Please email April and tell her your children's names and ages, and the area of town in which you live.  We will try our best to connect you with another family or two so maybe you will only need to make one trip to the church on Sunday evenings.  PARENTS ARE ALWAYS WELCOME to stay for Praise and Worship time with us!
A New Class for Parents of Youth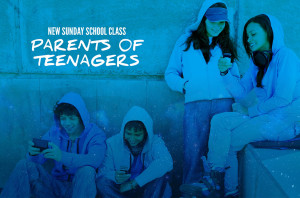 A wonderful opportunity for Youth Parents starts this Fall!  A new Sunday School class is being offered right after the 9:30 service.  Students are encouraged to attend the 11:00 service with April, so you can connect with other parents and have an opportunity to grow in your faith together with other parents.  Coming to PUMC this fall! Watch for more details!
 Sign Up for Meals for 2017-2018 School Year
We normally have parents volunteer to provide a meal for the youth on Sunday evenings.  You may use the church kitchen for anything you need.  A "snack dinner" is all we ask.  Easy items are suggested like mac n' cheese and a veggie, casseroles, pasta, baked potato bar, etc.  The kids get a little tired of pizza, so we try to avoid it, but please do whatever is easiest for you.  I'm only providing slots through January as of right now.  Click here, to sign up to provide a meal.
August 6 – Flockey & Gaining A Heart of Wisdom
Before you start back to school come out for an important reminder about numbering your days to get the most out of them and also gaining a heart of wisdom.  Eat before you come and meet us in the Fellowship Hall from 5:30 – 7:00.  We'll play "Flockey" which is like hockey, but with fly swatters and ping pong balls.  Jr. High WEAR green (mission trip shirt if you have it) and Sr. High wear purple (mission trip shirt if you have it.)
August 12 – Back to School Bash at the Garneaus!
We will be having a back to school party at the Garneaus house on Saturday, August 12th.  Please watch this email for more details as it gets closer.  Also, be sure to sign up for my FREE Remind texts if you haven't already (details below).
Remind 101 – Are You Subscribed for Youth Updates?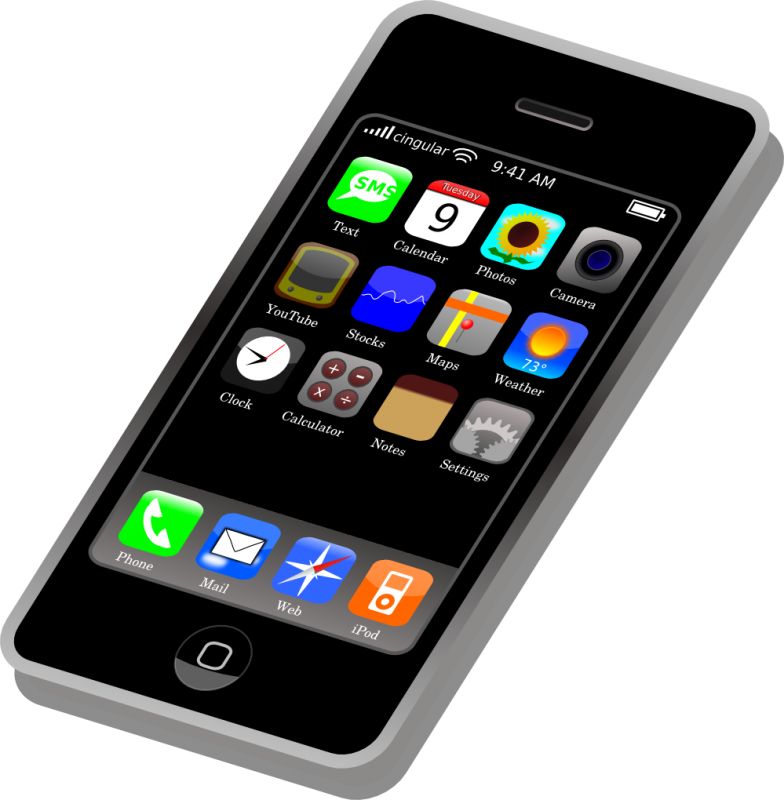 The Youth have two accounts with Remind 101 so youth and parents can receive short, FREE texts or emails from me for weekly scripture, reminders of activities or changes coming up!  It's easy to subscribe to and FREE (even if your phone says you may incur charges – fear not!)  There are two different groups (Jr. High and Sr. High).  As you get older you can switch groups, or stop receiving them at any time.  Or if you sign up to receive emails, but then get a cell phone later, you can switch from receiving emails to texts.  It's easy and I will ALWAYS have the information available.  The hard copy of these directions are always available on the Youth News Rack in the Narthex.  Green for Jr. High and Purple for Sr. High.
Senior High
For texts:   text to:   81010   in the message area type: @a43hd   to unsubscribe:  reply: unsubscribe@a43hd
For emails:  send an email to  a43hd@mail.remind.com   to unsubscribe:  reply with "unsubscribe" in the subject line
Junior High
For texts:  text to:  81010   in the message area type:  @dcf74   to unsubscribe reply: unsubscribe@dcf74
For emails:  send an email to  dcf74@mail.remind.com  to unsubscribe reply with "unsubscribe" in the subject line