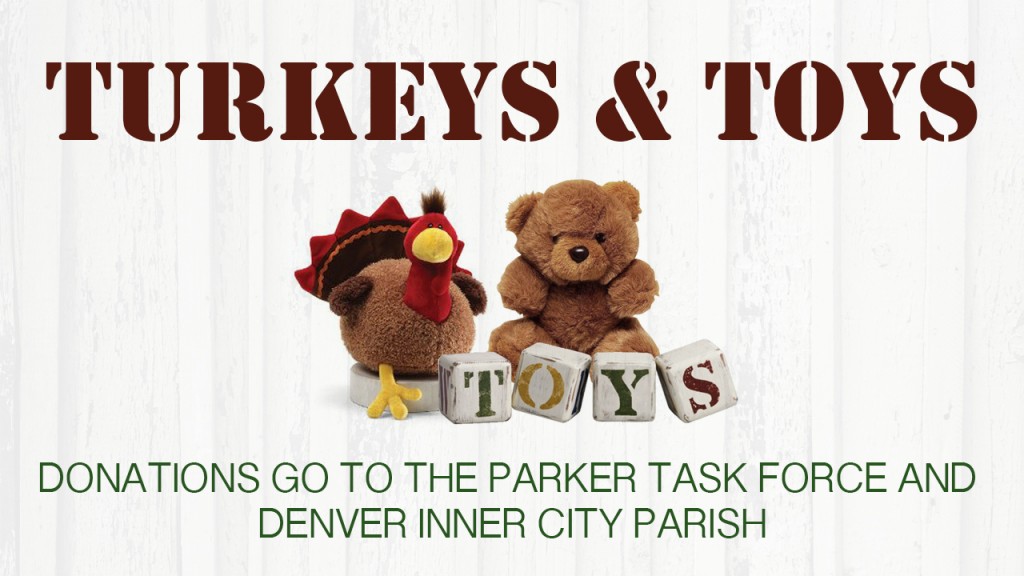 What if You Could Provide a Thanksgiving Meal and Christmas Presents to Families in Need this Season?
This month and next month we have opportunities to support our Missions partners–Parker Task Force and The Denver Inner City Parish:
The Parker Task Forceexpects to provide Thanksgiving dinners for many clients needing assistance this year.   You can help by either donating a food basket containing everything for a Thanksgiving dinner for a family of 4-6 or providing monetary or gift card donations to help purchase prepared Thanksgiving dinners from local grocery store deli departments.
The Denver Inner City Parish will hold their Annual Christmas Toy Distribution mid-December providing toys during the holidays for families needing assistance.   Parents will "shop" their toy warehouse for one gift per child. You can help by donating new unwrapped toys for children ages 0-18—look for collection boxes in the Narthex.
For more details, please visit the Mission's table/display in the Narthex outside the Sanctuary or contact Marsha Weber @ 303-658-0468.