IMPORTANT EVENTS THIS SUNDAY!
---
Sunday, December 17th, 2017
Sunday School – SORT OF!  Meet me in the Fellowship Hall to prepare the Welcome Home Breakfast
Youth Group – Yes!  Christmas Party AT THE PARKER LIBRARY from 2-4 with Ice-Skating After until 5
---
Things may have gotten a little out of hand last week during the Sr. High Christmas Song Pictionary Game….. Ha, ha!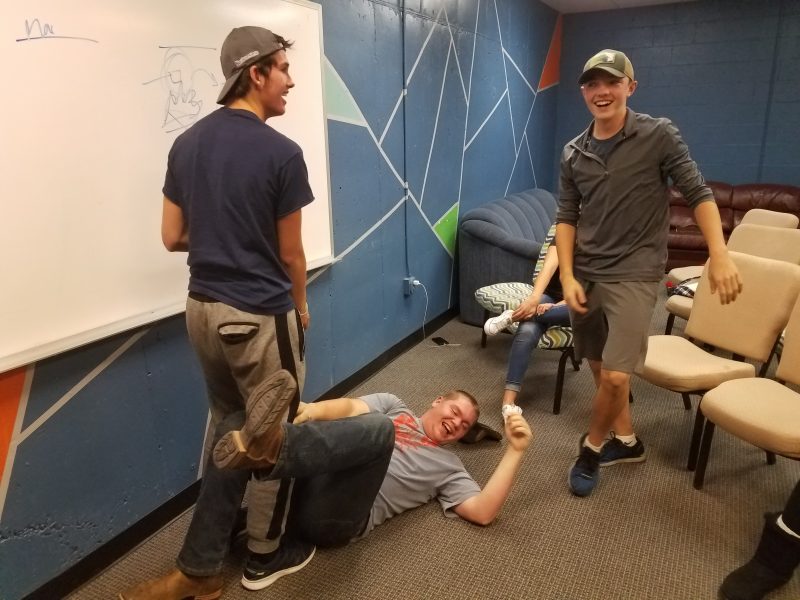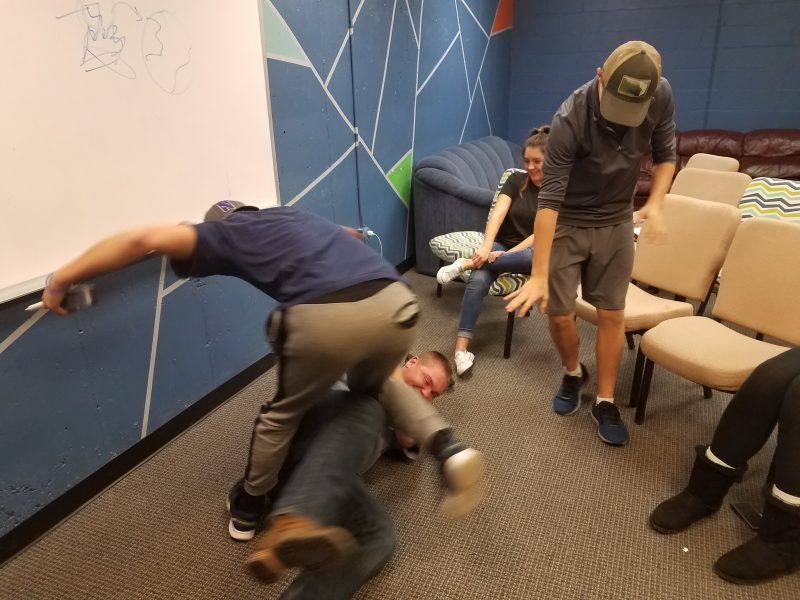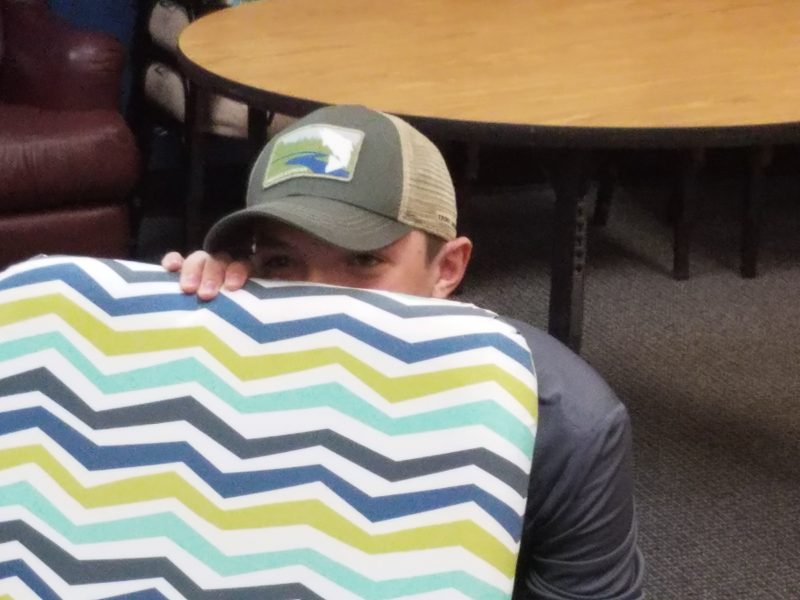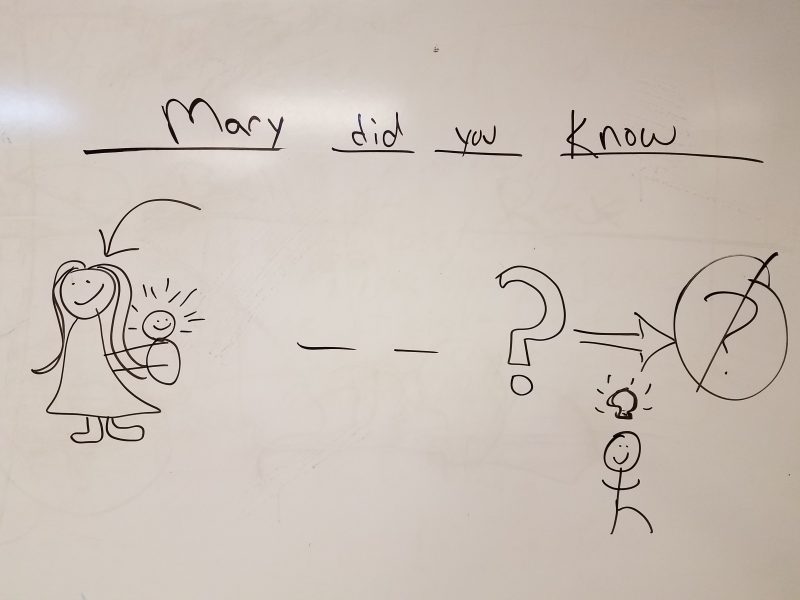 ---
THIS SUNDAY MORNING – Welcome Home Breakfast 
We will need your help this Sunday! We are hosting a Welcome Home Breakfast for our college-age kids and their families, as they come home for the holidays.  We will work on setting this up during our 9:30 Sunday School hour in the Fellowship Hall, and the breakfast will be offered at 10:30.  Please sign up here to help provide items for our breakfast.  Please have your youth help you cook, as they should be "hosting/providing" for a group that they will be a part of one day. So start thinking of your favorite breakfast casserole recipe (crockpot easy or in a dish).
THIS SUNDAY – Youth Christmas Party & Ice Skating  
This Sunday ALL YOUTH will meet in the Parker Library at 2:00 PM, upstairs in Event Hall B for our Christmas Party.  Games, prizes and a gift exchange are on the schedule! If a few parents could attend and help that would be awesome – please email and let me know if you're available.  Ice Skating is not required for anyone who attends the party.  Students may stay and watch or you may pick them up around 4.   Students need to bring 3 items 1) a party snack to share or a plate cookies 2) a wrapped gift no more than $10 in value OR a nice gift (worth fighting over) from your home they may no longer want 3) And $7.50 if students would like to ice-skate AFTER our party.  Families may come join us for ice skating around 4.  If you are just picking up, then students MUST be picked up no later than 5:00 from the Ice Trail/Library.  If your family comes to ice skate – you may stay as long as you would like, but will students will not be chaperoned after 5.
Confirmation Classes to Begin in January!
PUMC confirmation classes are for students in grades 7-10. Classes are for students to confirm they would like to join and become a member of the United Methodist Church.  The classes will be offered Sunday mornings from 10:45-12:00 Jan.–Apr. (with a Sunday off each month) in the youth room (#144).  If you have questions or would like to register your student please email April at April@ParkerUMC.org and give her: your student's name, grade, parents' names, address,  and a contact phone number. (These are the dates for class: Jan. 14, 21, Feb. 4, 11, 25, March 4, 11, 25, April 8, 15, 22 and Confirmation on April 29th.)
Youth Sunday Drama Sign Up

Yes, it's time again to prepare for a Youth Led Sunday!  Students will be participating to help run the entire service at 8, 9:30 and 11.  We'll need greeters and ushers, singers and this year a drama team!  No lines to memorize, and it will be easy – as most of the group is acting/reacting together.  It will all be set to music – I NEED A LOT OF PEOPLE TO PARTICIPATE!  If your student is interested in being a part of this powerful message, please sign up here, so I can begin communicating with the team.
Can You Provide A Meal in 2018?
Youth dinners are a vital part of our Sunday evenings and help provide a true time for fellowship and fun.  If you are able to provide a snack dinner some evening, please choose a date that works best for you. Click here to access the signup genius – and thank you so much!

Jr. High Mission Trip 2018 Buckhorn Camp – Early Bird Rate till Dec. 31st.
All current 6th & 7th graders are invited to attend Buckhorn Camp's Youth In Mission again this year! This trip is a half mission/half camp experience for our junior high.  We will be going June 17-22.  Buckhorn is offering an early bird price until Dec. 31st of $275 – when you register you may pay the whole thing OR place a $100 deposit to secure early bird pricing.  To register click here and register directly with Buckhorn Camp for Youth In Mission SESSION 1.  After Dec. 31st the price goes up to $300 through March. In April it goes up to $325 (and it may be full).  If you are a CURRENT 8th GRADER please scroll down for Sr. High trip information, as you will be considered 9th graders by next summer.  If you have other questions, please feel free to email me:  April@ParkerUMC.org
Sr. High Mission Trip 2018 – Pine Ridge, South Dakota
This year we are partnering with Next Step Ministries and will travel to Pine Ridge, South Dakota, to help on one of the largest Native American reservations in our country. Our trip dates are July 8-14.  The cost of this trip is $450.  To reserve a spot on the trip please download, fill out and turn in this form along with a $50 deposit check for each child attending this trip. Please make it out to PUMC with "your child's name – Sr. Hi Mission Trip" in the memo line. I have heard great things about Next Step Ministries, and I am anxious for this experience.  Email any questions to April@ParkerUMC.org
New Youth Calendars
When you come to church for Christmas Eve, grab a new calendar from the top shelf of the Youth News Rack (in the Narthex).  If you're out of town, grab one in January. They're always lime green.