Information about the finances here at Parker UMC
The Finance Committee here at our church will be providing a weekly series in the "Mid-Week Message" with information about our church's finances. Our annual budget exceeds $1 million, and we believe you have every right to know all of the details about those dollars and how they are spent. For the next 12 – 15 weeks, we will publish a short article about different aspects of those finances, and we invite you to do 2 things –
Read these short articles every week. It is your money and we want you to know what the church is doing with it.
Tell us what your questions are. Ask us for more details or a clearer explanation. We want to provide the information that you want, so send us an e-mail to Office@ParkerUMC.org with your questions. We will be glad to answer you directly and also might include your question in this weekly series.
Spring 2018 PUMC Financial Questions and Answers
Because the spending here at Parker UMC comes from the funds you provide, we want you to know how those funds are spent. Full details are always available to anyone – but the Mid-Week Messenger will be providing short summaries to provide you with some basic information.
Did we end 2017 in good financial shape?
Yes we did. We had set a budget of $1,190,000 that matched our expected income with our projected expenditures, and we are pleased to report that we were able to keep expenditures about 3% below our budget. We also saw your contributions exceed the projections by about $6,000. And we received about $44,000 in 2017 as some of our members pre-paid their 2018 pledges in 2017. All of those prepayments, and the small surplus from 2017 are being carried over into 2018 – so we are off to a solid financial start for this year.
Can you explain the new mortgage to me?
We built our new sanctuary in 2007, and financed about $3.8 million in order to build and complete it. In the 11 years since we moved in, we have been able to pay off almost $1 million of that mortgage, leaving a mortgage today of just under $3 million. That mortgage had to be refinanced in 2017, and we now have a new loan that is much like a home mortgage in which we pay both principal and interest every month, and is based on making payments for the next 30 years. The annual payments on this debt now account for $185,000 each year – about 15% of our annual budget.
How was our 2017 budget spent?
Our budget for 2017 was set at $1,190,000 and we actually spent $1,165,875. The details of those expenditures are available to anyone who wants them, but as an overview, those funds break down as follows:
Graphically, it looks like this: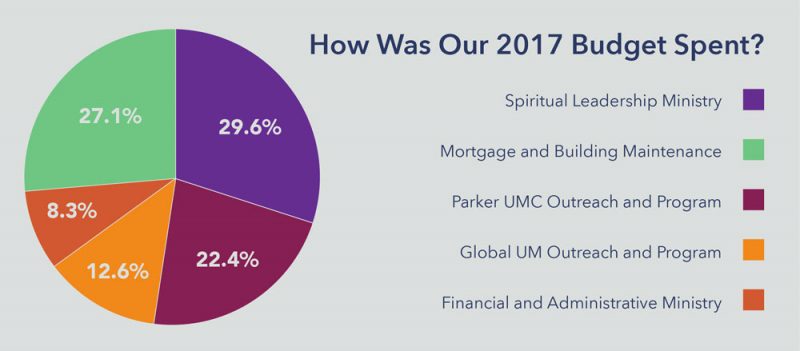 What is our 2018 budget and how will it be spent?
Our budget for this 2018 year is set at $1,172,000. The details of the budget and the process we follow to set it are available to anyone who wants them, but as an overview, those funds break down as follows: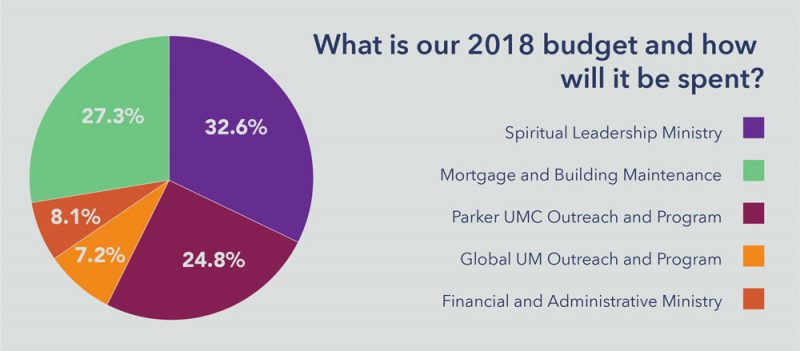 How does our regular giving support Parker UMC's outreach ministries?
Our church provides or supports a wide variety of outreach ministries, and it is usually difficult to isolate the church dollars spent in these efforts. Almost every one of our staff – from the senior pastor to the Little Blessings preschool staff – are often engaged in reaching out to the local Parker community. Mission trips such as Respire-Haiti and the youth trips are often funded in whole or in part by the participants or by special, designated gifts. But as a general assessment, about one-third of your regular giving supports our outreach ministries.
How are we supporting the Little Blessings ministry?
The preschool at our church – Little Blessings – is self-funded. The tuition collected pays for the teachers, supplies, special programming, curriculum and administration of the school. Our congregation provides rent-free classroom space here at the church and we did help fund (for the first year) the expansion to a second facility at their new Plaza Campus. Our church is proud to offer and operate this Christian early childhood mission for the greater Parker area.
Is the Amazed By God campaign over?
Yes. The landscaping and paving work around our church is now completed and all of the bills are paid. In order to complete all of the work in 2016, we did borrow funds so that the entire project could be done and bills could be paid promptly. However, using the pledge payments many of you have made, all of that loan is now repaid. In summary – the work is done and all of the bills are paid. Thank you all for your support for this beautiful landscaping/paving project. 
What is a tithe?
The Biblical concept of a tithe is usually defined as giving 10% of your annual income. There are many different ways you can define "income," but the real focus should not be on the definition, but rather on the act of sharing. When we truly believe that all we have comes from God, sharing our first fruits to support His ministries is an easy decision. If that 10% number is an imposing goal, try to commit to an incremental increase each year until you reach the 10% tithe level.
We ask that you prayerfully consider your giving in support of our ministries.
What endowments do we have at our church?
Parker United Methodist Church has been blessed with a strong and diverse endowment program. We currently have 3 different funds and they focus on providing support for college scholarships, our property and a general endowment. The total in all 3 endowment funds is about $500,000. We also have a committee responsible for management of these funds, and we are able to add to any fund at any time – and even to add additional endowment fund categories. Your funding of these endowments allows you to pass a legacy of your hopes for ministry on to future generations.
Should I name Parker UMC in my will?
Many find it difficult to tithe 10% of their income, but it is very easy to leave 10% of your estate to the church in your will. Naming Parker United Methodist Church in your will allows you to support the ministries of this church even after you are gone. You certainly want to remember your family and perhaps a university or other charitable efforts in your will, but we hope you also prayerfully consider tithing from your estate to Parker UMC.
Why do we staff the way we do? What does this cost us?
The Staff-Parish Relations Committee of our church is responsible for determining the staff job descriptions, interviewing and hiring, and setting compensation levels for all staff positions. They connect with the pastors and the congregation as they define what staff positions we need and what the compensation should be. Combining our ministerial, music and worship, Christian education, administrative, and janitorial staff today, we employ 16 people and will pay $643,025 in salary and benefits this year.
What will be the impact on our budget of a new pastor?
As he announced in January, Rev. Randy Jessen will be retiring in June, and the Conference will be appointing a new pastor to Parker UMC, effective July 1, 2018. We now know that Rev. Barb Sholis will be our new pastor, and we also know that there is no change in the salary package that was Randy's and will also be provided to her for the second half of this year.
What are the relationships between our budget, our staffing, our membership and the economy?
This question can have a complex answer. However, even though the needs for outreach and community ministry increase, we know that when the economy dips, giving to the local church also dips. The leadership of this church keeps a close eye on many economic and financial factors, and possible budget and/or staffing cuts would be considered if giving begins to drop. We are, however, very fortunate that the Parker UMC congregation is currently supporting our financial objectives, allowing us to be in active ministry both locally and around the globe. We thank you for your generosity!